四国八十八箇所
shikoku hachijū hakkasho
Die 88 Orte Shikokus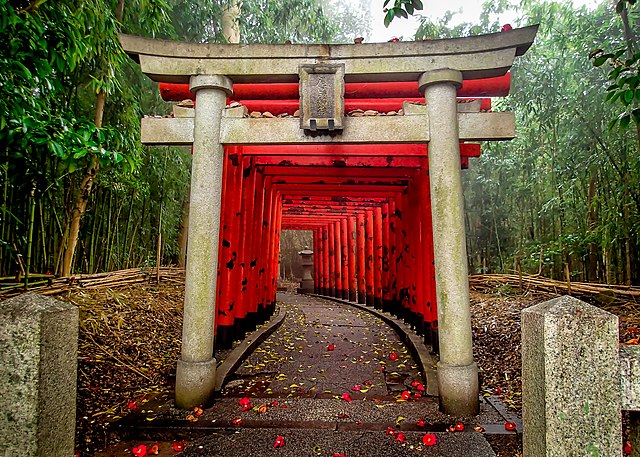 Ich habe im März und April 2020 eine Pilgerreise durch Japan unternommen. Mein Ziel war es in dieser Zeit insgesamt 88 Tempel auf Shikoku zu besuchen, dort zu beten und den Weg von insgesamt 1400km zu Fuß zurückzulegen.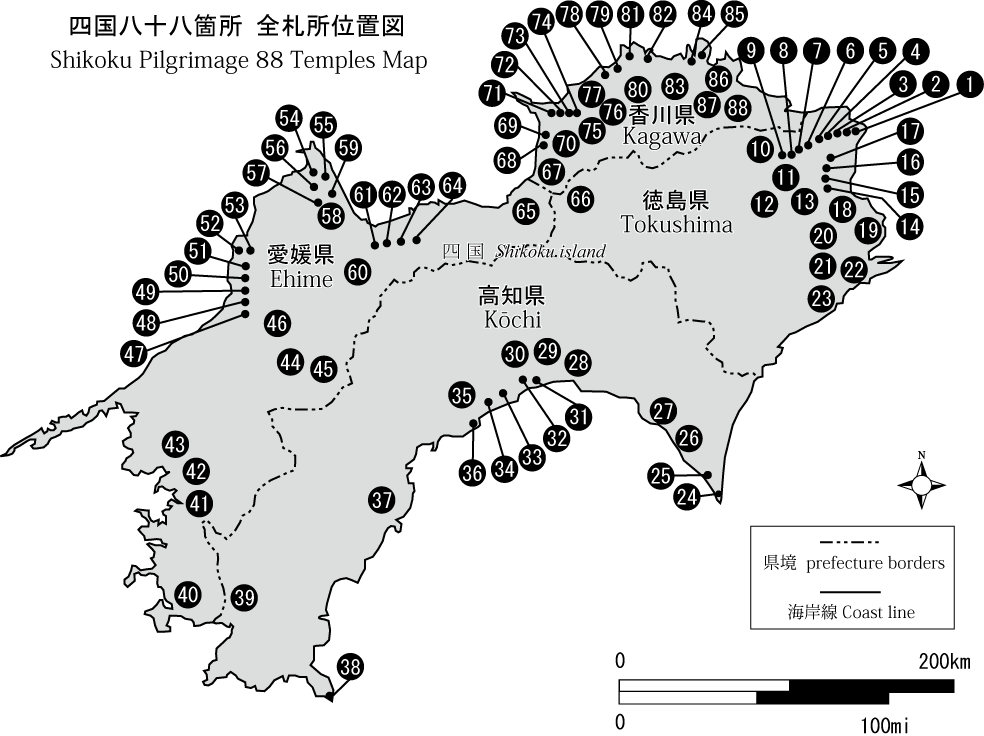 Hier folgend nun dazu der Blog, den ich während meiner Reise verfasst habe.
Arrival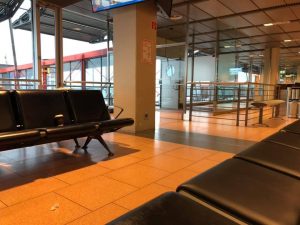 It starts. Arriving in Japan in about 16 hours. Aw man, I hate flying…
Mar 10, 2020 8:22:14am
~~~~~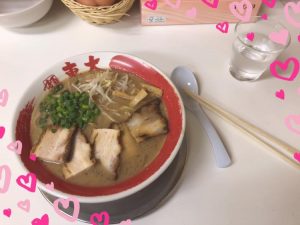 What a day… I haven't slept for 28 hours now and it's really hard for me to stay awake. I am too old for this…
The flight was ok and everything else (getting my bag, catching the right bus, finding the hotel) went really smooth. I was even out for lunch. With real people. In a small Ramen Shop. The food was soo delicious and I didn't die from interacting with other humans.
I also already got into two bowing infinity loops and had ice cream in the sun. I have to do laundry today and I am soo looking forward to sleeping. It's hard to form sentences that make sense right now, so I will wash my stuff and stop trying to create content.
It's already evening anyways.
Mar 11, 2020 9:07:07am
~~~~~
Day 0 – Tokushima Tour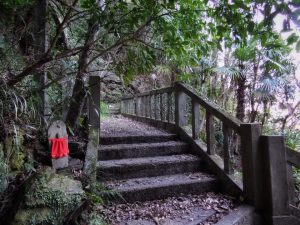 After 11 hours of sleep (that was seriously necessary) it was time to do some preparations. After breakfast I went to temple no. 1 – Ryozenji – and bought all of my ohenro gear at the shop there.
After that I shortly visited the temple itself. I met the temple cat (fluffy, black and cross-eyed) but he/she wasn't in the mood for a hug. I got kinda confused on my way back to the hotel and was afraid that I used the train in a wrong way (couldn't find anything where I could purchase my ticket) but in the end I did everything correctly. Phew.
Tomorrow will be the last day of using transportation. After that, walking it will be. Only. Walking. After lunch (some 7/11 Sandos) I went a little bit sightseeing around the area. I went to Tokushima castle grounds and climbed up to Mount Bizan. The weather was awesome (16 degrees C) and guess what… I got sunburned! After dinner I prepared all of my stuff and made myself ready for the offical start of my pilgrimage. I will start easy tomorrow (1 shrine, 2 temples) and the day after tomorrow I will be completely on the road.
I am still very excited and I hope I can overcome some bad, annoying feelings soon. I know I can do this somehow.  Good night! おやすみなさい
Mar 12, 2020 2:18:44pm
~~~~~
Day 1 – Ōasahiko Shrine, Ryozenji (T1), Gokurakuji (T2)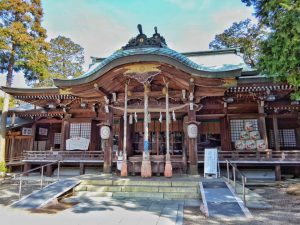 I officially started my pilgrimage today.
I had a pretty bad night (maybe because of jetlag?!), but what can you do. After breakfast (why the heck did I order salad? Damn) I went in full ohenro gear to Tokushima station. On my way I talked a little bit with a Japanese. He even knew the difference between Austria and Australia. I went from Tokushima Station to Bando (like yesterday), so nothing to worry about. When I got off the train I knew this was the last time using public transport for a very long time. And with this my pilgrimage startet!
I "met" 3 other pilgrims, two from Switzerland, one from the UK, but I just said hi and went on. I could hear them talking but I wanted to be alone right now.
I first went to Ōasahiko Shrine (photo) to pray for a save journey. After that I went to temple no. 1, Ryozenji. I tried my best to do the pilgrim routine and I hope most things were correct. I loved ringing the huge bell. Man, thats super loud.
After that I went to temple no. 2, Gokurakuji. That's really a very beautiful temple. A lot of greens, bamboo, beautiful statues. I left an origami crane at one of the statues. After looking around and praying I collected my temple stamp and moved on.
Normally pilgrims would continue to the third temple, but I wanted to take it slow today, so I went back to the hotel. On foot. 
On my way back I received my first 2 osettai. One was a 4 leaf clover, the other one a hot cup of coffee. It's crazy how nice the people are around here and how much love and respect you get as an ohenro.
In the end I walked 26km today, but the real deal starts tomorrow. It will be a long walk and I will be 100% on the road then. Always walking with my rucksack, staying every night somewhere else. I really enjoyed today. Especially because I was soo worried beforehand, but there was really no need to be.
I am excited and full of respect for the way and days to come.
Mar 13, 2020 11:48:04am
~~~~~
Day 2 – Konsenji (T3), Dainichiji (T4), Jizoji (T5), Anrakuji (T6)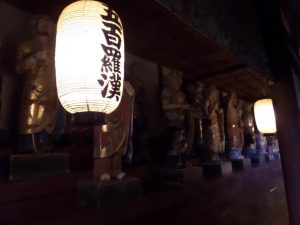 Short wrap-up of today. It's late and I have to get up at 5:30 am. Phew. 
I had another great day. My first day on the road really. I left my hotel after breakfast and made my way to temple no. 3. Despite carrying all of my luggage it seemed as easy/hard as without. It took me 3 hours to get to T3. It rained all the time and it was pretty cold. But it wasn't too bad. The temple had nice statues and the lady at the stamp office was extremly friendly and knew a little bit of English. The rain stopped by then and when I arrived at temple no. 4 one hour later the sun was out bright. T4 was a little bit under construction and seemed kinda emty to me. I learned from an older henro how to light candles in a right way. 
On my way to temple no. 5 I got a little bit lost (I would be so doomed without my watch…) and entered a temple which isn't one of the 88 of the pilgrimage. This seems to happen quite often because the man located at the temple told me instantly that this isn't T5. I looked at the temple nevertheless and it was really worth it (photo).
After leaving this temple an old woman came running to me and gave me a dessert (which was pretty tasty). I hope she had two of it and isn't without dessert today herself.
At temple no. 5, which was simple but pretty I took a little rest. It became very windy but the sun was still out, so it was ok.
After another hour, around 4pm I reached my final temple and my accommodation as well, temple no. 6. T6 is a very impressive, large temple. I dedicated this temple to a very close friend of mine and prayed for her. The lady at the stamp office was adored by my plush fox which I am carrying at the side of my bag. After taking my time at the temple, I went to the Shukubo. A monk greeted me there and knew who I was… well, not really hard to tell. He explained everything to me and showed me my traditional room. Love at first sight.
I didn't have much time, because the schedule this evening was packed. 
I went to dinner at 6pm where I met another ohenro couple from Hawaii. Dinner was good, just not my taste. At 7pm I took place in a religious ceremony which was amazing. It's just to much to explain, but it was spooky, amazing, wonderful, breathtaking. An older guy took care of me there and showed me how to do things. So sweet. 
After that I went to the Onsen. First time! I met only one another woman and she luckily didn't freak out when seeing me. I was worried about that. I dived into the pool which was boiling hot. I mean seriously hot. 
Later on I prepared everything for tomorrow and now it's way too late and I have to go to bed…
Nighty night!
Mar 14, 2020 2:16:19pm
~~~~~
Day 3 – Jurakuji (T7), Kumadaniji (T8), Honrinji (T9), Kirihataji (T10), Fujiidera (T11)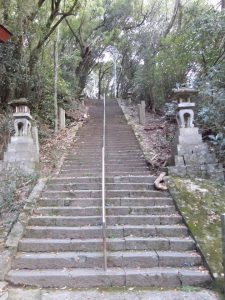 Just a short notice, because I am dead tired and tomorrow I have to do one of the hardest walks.
I visited a lot of temples today. I am really not fond of seeing so many in one day. One or two each day would be perfect but this will happen soon enough.
Temple 6 woke us with a super loud speech through speakers. Nice. Impossible to oversleep this…
T7, T8 and T9 were nice and quiet in the morning. They were all beautiful in the rising sun.
On my way up to T10 I met an ohreno from New Zealand. She told me I should leave my rucksack down here. She showed me a hiding space for my heavy stuff and so I went up with much lighter gear. Which was very wise, because the 371 steps (photo) were brutal. Even without the heavy weight. There I met an Japanese ohreno and we talked a little bit. After some time I went back to retrieve my stuff. On my way to the hostel I seriously struggled. I guess the lack of sleep and food aren't the best conditions for walking all day… I finally arrived at the hostel but it was completely closed till 16:00. It was 13:30 by then… I had already planned to go to T11 and to do some shopping (I knew the check-in was at 16:00) but I really didn't want to carry the bag anymore. So I wrote the owner of the hostel if I could leave my stuff somewhere. And so I hid it behind a washing machine. 
The way to T11 was way better without the weight and I really enjoyed the temple itself. But the look up the mountains discouraged me a lot… 20km up the mountain tomorrow. FFS… I have no idea how I should do that….
So after an already exhausting day I will try to relax and sleep soon. Keep your fingers crossed for me tomorrow. I will seriously need it…
By the way… I got 3 osettai (2 juices and crackers) today and saw 2 cats. 
So. Bring it on, tomorrow. I am not ready…
Mar 15, 2020 12:46:00pm
~~~~~
Day 4 – Shōzan-ji (T12)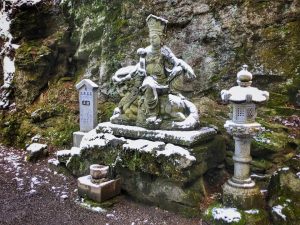 Today was the day. The way up the mountain. A walk to break people, bringing men down to tears.
Dundun.
Well what can I say… it was amazing. 
I nearly slept 10 hours and had a rich breakfast. I think I really needed that. I left the hostel at 7:30 am. It was very cold. -5C, so I nearly wore all of my clothes. The first step was the 4k back to T11. I knew the way, so the time went by quickly and I didn't have to look at the map all the time.
At T11 I met a guy who stayed at the same hostel as me, he went ahead of me. He is definitely a strong walker. 
Well, so I started my way up. 12,6k to go to T12. The trail was so amazing an beautiful. Trees, waterfalls, everything. It was very stormy in the beginning which made it even colder, so I moved faster to stay warm. After a few kilometers I saw snow and it grew more and more over time. I built a little snowman on a bench. On my way up I met 2 guys from the US. I had a long rest with them half way up to the temple. The second half up was really steep and exhausting. But to be honest this was all much easier than expected and than yesterday. Seems endurance running helps when you want to climb up a mountain trail with a 10kg backpack. Shortly before arriving at the temple it snowed and the sun came out. This was pure magic. My jaw nearly dropped to the ground.
Temple 12, which is the temple to heaven, was beautiful and stunning as well. At the stamp office was a resting area with a little heating place. I made rest here again and met an Australian guy with perfect Japanese. Really a nice guy.
My way to the guesthouse took me about an hour. It was really, really cold and I went through a little snow storm.
At the guesthouse I was greeted by the maybe nicest lady in the world. The owner is just so sweet you gotta love her.
I took a long hot shower and washed my clothes. At 6 pm I got dinner and oh my god this was f'n delicious.
I had a little chat with the landlady and really, I love her. 
My room is super cozy and I really would love to stay. But… I will leave tomorrow for another adventure.
Mar 16, 2020 12:30:30pm
~~~~~
Day 5 – Dainichiji (T13), Jorakuji (T14), Kokubunji (T15), Kan-onji (T16)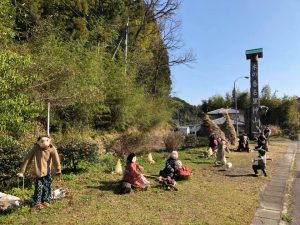 Another short review of the day because of 😴
It was a really exhausting day. It started with an amazing breakfast and I went onto the road at about 7:30 am.
A long walk (photo) to temple 13 lied ahead of me. After 30min of walking somebody offered me a ride but I declined. Maybe some other time.
At temple 13 I had a nice chat with the stamp lady. She gave me an orange as osettai as well. The stop at T14 was rather short. At T15 I saw a cat! The temple was nice as well but the cat was way more cute.  I played with it a little bit and moved on. On my way to T15 I saw a Japanese Giant Hornet. WTF. The thing was huge. I mean HUGE!! I think it was already dead but I really didn't want to check.
T15 was mostly under construction so I didn't stay long here either. I was quite happy to reach T16. I was tired, exhausted, my feet hurt (you really wouldn't want to see them). After T16 it was only 10mins to the accommodation. Luckily. I checked in and went shopping immediately. I knew I wouldn't want to go out after showering anymore. After a long hot shower in an awfully cold room, I went to my room to eat and plan for tomorrow.
I met a lot a people today and talked a lot. A lot of Japanese people helped me find the way. I got a Vitamin Drink and a mandarin as osettai. The weather was fine too. Nevertheless I am completely done now and long for a rest.
Good night people. Stay safe!
Mar 17, 2020 1:18:36pm
~~~~~
Day 6 – Idoji (T17), Onzanji (T18), Tatsueji (T19)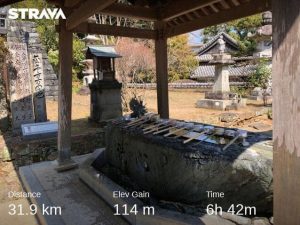 I see more and more of my colleagues are reading this… your apocalypse must be really boring, hmm?  So, hello colleagues! 
Today was a good, strong, emotional and heartwarming day. I started early and got up at 5:45 am. I had breakfast as much as possible and head out on the road at 7 am. The sun was completely out already and I knew it would be a pretty warm day.
I went to temple no. 17 which was peaceful in the morning. I chilled a little bit and then moved on (18k) to T18. On the way I met Matt again (an Aussie Henro) and we walked about 10mins together. He took a break at a Henro Hut, I decided to move on. My body felt strong and time really flew by. The whole day I was a bit on the emotional side. I sometimes nearly cried thinking about the past few years. What and whom I had lost, so much pain, so so much hate inside me. Everything so hard to understand.
Shortly after midday I arrived at T18 (photo). A really nice temple with some cooling places under some trees. On my way down from temple 18 I met Vicky from New Zealand again. She told me she hadn't any accommodation for today by now. I somehow envy people who can be so spontaneous and carefree. I would kinda freak out…. before heading on to temple 19 I made a short stop at a grocery store. Outside a woman told me she had done the pilgrimage 4 times already and she gave me an osettai (chocolate).
It was a short way to T19 and I arrived there at 2:30 pm. I took my time praying and sat down on a bench before my final walk to the guesthouse.
A woman gave me more chocolate as an osettai. I really must look hungry. But I guess it's the terrible hair "style" people feel sorry for. Poor ugly woman… let's give her chocolate at least. 
I sat there for a longer while as the woman from before – Akiko-san – came back. She invited me to drink coffee in her house next door. I followed her and spent an hour of my time with her. We talked about vacations, she gave me another osettai (selfmade gloves) and had a nice time. I think she is pretty lonely as her husband already died some time ago. I hope she had some good time with me as well (I am not the best one with this conversation thingies).
Then I made my way to the guesthouse. I was greeted by an older couple who showed me around. I took a most needed shower and washed my clothes (Japanese washing machines are driving me crazy).
At 6 pm the lady called me and invited me to their family dinner. So I had dinner with the couple and a friend of theirs. Their friend spoke good English, so they got to know me a little bit better.
Later on I prepared everything for tomorrow.
Tomorrow will be a long day. We will see what awaits me. おやすみなさい
Mar 18, 2020 1:52:25pm
~~~~~
Day 7 – Kakurinji (T20), Tairyuji (T21)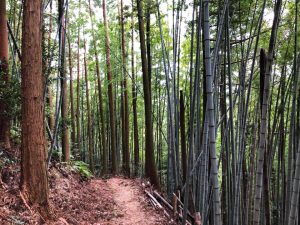 One week in Japan. One week that changed home completely. Crazy times, aint it?
I overslept today. I must state that I NEVER oversleep. It seems I can't hear my alarm well enough when my arm is under 2kg of blankets… ah well. So I had a pretty stressful morning as I really wanted to leave at 7 am and it was already 6:20 am. Jesus!!! Ah… I mean Kukai, I guess. 
Before leaving the landlady gave me a doggy bag as osettai and I took my leave. The weather was bright and I was in a good mood. So on to temple number 20. Everyone told me it would be an exhausting day, so I embraced everything that came for me. The way up to T20 was hard but beautiful. I was fast, despite my backpack and I rushed a little but because I had so much fun. At the top I was stunned by the beauty of the temple. Even the stamp was really great. The stamp lady gave me some sweets as osettai.
What followed was the worst part of every mountain climb… going down. As I can only use one leg to go down, it always takes a lot of time and wears out my good leg.
The climb to T21 was harder than the one before, it got really warm and I got tired and hungry. It took me a lot longer and I was drenched arriving at the top. Now I knew why there was a cable car going up there. But the views were simply amazing, so it was defo worth the effort.
I took a short rest at T21 before heading to my place for the night. Going on annoyed me. I was tired, I was grumpy. I wanted a bath. But what can you do when you live in a shoe. Shortly before arriving at my destination it started to rain. So I unpacked my raining gear and when I was ready to continue… it stopped raining. Right… of course.
I was very happy when I arrived at the minushuku. At the dinner table I met Vicky and a Japanese guy I met today pretty often. Vicky told me she was leaving Japan tomorrow because her family worries a lot because of the situation all over the world.
We then had a very nice chat with the owner, a very very kind man.
Now it's nearly bed time for me. Tomorrow I will leave the Tokushima area and I will leave the mountains behind me and I will go to the sea.
Stay safe out there. Keep your distance and remember to wash your hands as long as Usagi needs to transform into Sailor Moon.
Mar 19, 2020 1:30:46pm
~~~~~
Day 8 – Byodoji (T22), Yakuoji (T23)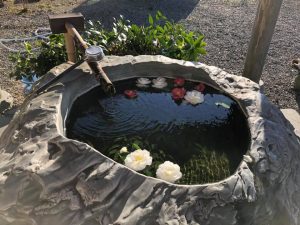 A very hard day. I got up at 5:30 am, breakfast was scheduled for 6:30 am.
I left the Panda House at 7 am with a doggy bag as an osettai, making the short way to T22. I prayed for my best friend there.
A lot of people were at the temple at that early hour. Then I remembered… it's a national holiday today in Japan.
After temple no. 22 I took the (longer) ocean route to T23. It was a long, hard walk. I was tired from yesterday. I still lack calories everyday. My feet hurt… meeeeh. I walked and walked and walked. I really couldn't pay attention to the landscape, but when I reached the sea I could smell it right away.
At around 2:30 pm I reached T23. On my way there someone stopped me and asked me if I am Barbara.  It was the owner of the hostel I would be staying and well… tourists get more rare every day. He took my luggage and I went on to the temple. It was super crowded (holiday) but I enjoyed it nevertheless. It was impressive but has steps. Phew.
After my visit I went to the hostel. A really cozy and friendly place. And the whole dorm just for me.
I did my usual stuff and decided I would take the train tomorrow, at least for a few kilometers. My knees are pretty torn from the mountains and my old body says it wants a more quiet day. So tomorrow I will only partly walk, but better be safe than sorry.
I am really tired and I am looking forward to sleeping in tomorrow.
Mar 20, 2020 1:36:48pm
~~~~~
Day 9 – no temple – recreation
Welcome to surfer's paradise. 
So it was time for some recreation today. I slept till 6 am. Yeah I wanted to sleep longer, but habits, but I took my time getting up. Collected my stuff, had breakfast, got packed and head out to the train station. I checked the schedule there and waited sitting in the sun for the train to arrive. A young man did join me and we talked a little. He was 21, I think (or 21 is his lucky number, or he has 21 siblings or he has 21 cars… I am not sure..) and he played his favorite song for me on YouTube. That was cute. I also could talk about video games with him which was nice.
I took the train from Hiwasa to Kaifu (about 20k) which took about 45mins. The little train rushed through the wilderness and I had fun and nice views. After arriving in Kaifu I walked as usual towards my destination, my accommodation. No temples for me today.
I walked for about 3 hours with the sea by my left side and I sometimes stopped to enjoy the view.
Round about 3 pm I reached the minshuku. It is located 100m from the beach. Ikumi beach to be precise which is very famous in Japan for surfing.
After taking a shower I went to the beach (video) and looked at the waves and the surfers.
During dinner I had really nice conversations with 4 other Japanese. I already knew one of them from yesterday. He overtook me shortly before temple 23.
Now it's time to make some preparation for tomorrow and do some planning. I want to do some sightseeing tomorrow. 
Keep your heads up, people at home!
Mar 21, 2020 11:51:56am
~~~~~
Day 10 – Hotsumisaki-ji (T24)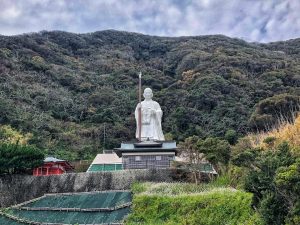 Some things don't work out as planned.
I got up at 6 am after a quite uneasy night. Japanese are loud sometimes but so are Germans…
After a little chat during breakfast I said my goodbyes and packed my stuff. Muroto-misaki was my destination today. It's a quite important place (photo) of my journey (Kōbō-Daishi changed his name to Kūkai here and he spent years of training and meditation at the temple), so I decided to get there by bus (35k) instead of walking so I could look at all the famous spots without a hurry.
On my way to the bus stop a car pulled over next to me. A man asked me if he could give me ride. After telling him about 5 times that my destination is about 35k away, I got into his car. He insisted that he would be going in that direction anyway. After about 35min we reached Muroto. He stopped the car at a parking lot, got out of the car and bought a drink from a vending machine and gave it to me… sometimes the generosity of these people is a bit much. No matter if I am currently a nun / henro or not.
So I was at Muroto-misaki at 11am already. I went to my hotel and luckily found a person there. I left my backpack there and went on sightseeing.
I went to the cave where Kūkai has meditated and I went up to temple 24. A really beautiful temple with an amazing view. I enjoyed it a lot there.
Sadly nor near the temple neither near my hotel were any shops… so to get some food for lunch, dinner and breakfast I had to walk 5k one way to buy some stuff. So I did quite an amount of walking today nevertheless.
Now it's soon time to sleep and relax as tomorrow will be a hard and long walk.
Keep your heads up, boys and girls!
Mar 22, 2020 12:22:47pm
~~~~~
Day 11 – Shinshō-ji (T25), Kongōchō-ji (T26)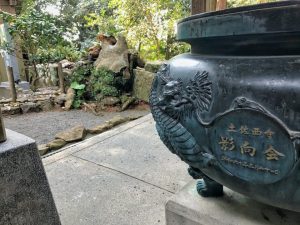 As a long walk laid before me I got up before sunrise. I had an uneasy sleep but I don't remember why anymore… I suppose the usual stuff…
The house was super quiet, I guess everyone was still asleep when I went out. I took a deep breath and started the day. After a few steps I heard someone behind me. I turned around and I saw the owners of the place bowing to me and wishing me a good journey. In their pyjamas… it must have been important for them to tell me that. 
As I walked on I saw the sun beautifully rising above the sea. I heard the waves crushing. Onto a new bright day.
It took me about an hour to get to temple 25. The air was pretty humid and I started to sweat. I am still not used to temperatures beyond 20 degrees Celsius…
Temple 25 was small and neat and I took a short break there.
The way to T26 was, guess what, up a hill. The henro michi (pilgrim way) lead through the trees and bushes and my backpack got pretty heavy. When I reached the temple I was done, drenched, out of breath. I sat down on a bench, took my jacket off and took another break. After 10mins or so I entered the temple. There I met the Asian Guy (I know he is from Taiwan by now and I forgot his name… so let's call him Stefan… I am sure his name is Stefan…) again and we waved at each other. The temple was very beautiful and I found a souvenir for a friend there. I met another Japanese henro and he gave me an osettai (200 yen to buy some drinks). I spent the money immediately on the vending machine there and made my way to the accommodation. 20k to go, after 15k already. Oh well. Not getting any younger. I walked a very long time, always the sea on my left side, the mountains to my right side.
After hours of walking a lady from a fruit stand waved me over to her. She gave me two of her oranges. They tasted amazing. It was around lunchtime by then and I was out of food and pretty hungry. This helped a lot.
The last 5k were pretty exhausting, my back hurt, my knee hurt, my foot hurt. Ah, nothing worth mentioning, eh?!
I was super happy reaching my sleeping place. Guess who was there as well. Right my Taiwanese Stefan guy. I took a long shower and used the bath tube for about 5mins. Japanese bath tubes tend to be little onsen baths. The water stays in the tube and is permanently heated (and you don't wash yourselfs in there, you just relax). I stepped into it and sighed. My gosh it was so hot. I looked at the panel… 48 degress C!! That's kinda warm… I cooked in there for a few minutes and then got out.
I returned to my room and didn't join the evening conversation in the living room with the host. The host is a bit too eccentric for my taste and I am really tired which makes me grumpy and wanna-be-alone.
So I am in my room now, thinking about tomorrow and super looking forward to my accommodation. I booked a room in a hotel!! With a private bathroom and toilet!!! Amazing. This will be super-duper amazing. 
And I am looking forward to sleeping… now… yaaaawn.
Mar 23, 2020 1:00:50pm
~~~~~
Day 12 – Kōnomine-ji (T27)
Day 12 and already 2 weeks away from home. Time really flies. It doesn't feel like 2 weeks, despite of home sickness sometimes.
I got up as usual around 6 am, packed my stuff and went out pretty quickly. The host of the accommodation is really not my type… 
Only one temple today. Number 27. My guidebook said it is strongly recommended to leave the heavy stuff at the foot of the mountain and not carrying it all the way up and come down with it again.
I got a hint where I could leave my stuff pretty safely. I was really considering not using this place… I am not sure why. Somehow it sounded strange to me but as I couldn't find any other place to hide my bag I left it there nevertheless.
So I made my way up to T27. It was strange… for me the walk to T12 or T20 was much more exhausting and way harder. It wasn't even as steep as the streets on Madeira and I went there for a run (ok I nearly died then, but hey…). I am really getting better at hiking up hills. I overtook about 5 other pilgrims and smiled all the way. The weather was perfect by the way.
Reaching T27 I was amazed. Another beautiful temple with a lot of water. As an add-on I went further up the mountain to a little shrine in the woods (photo). It was soo quiet and calm there.
On my way down again I really felt happy. I mean really happy. A really rare emotion for me and something in my head told me that it isn't time for me to give up on everything. That there is hope somewhere. Hope and happiness. Maybe even for me. Who knows.
I picked up my stuff again and went on to the next town, Aki. I was looking forward to my today's stay for days. A REAL hotel. With a private bathroom. And privacy!! Hell yeah. I arrived there pretty early (shortly after 2pm) and I prayed that I could go to my room right away. And I was lucky. What a great day.
I put all my stuff into my room and went shopping right after, so I wouldn't have to leave anymore. At my room again I washed all my clothes and then I took a long, hot bath. It was heaven. I really like my stay here, although objectively speaking… the room is pretty bad. The walls are coming off, it's dirty, everything is old, there are burning holes in the carpet. But… it has a BATHROOM!!
And guess what. After planning stuff for tomorrow I took another bath. Because I can. And I am still there…
Mar 24, 2020 2:01:05pm
~~~~~
Day 13 – Dainichi-ji (T28)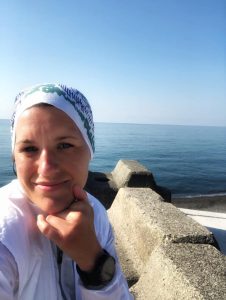 Tired today. 
Another nice day on beautiful Shikoku. I started my day slow as I had only 25k to go today. It was after 7 am when I started to walk.
The sun was out, I enjoyed the view of the sea and after 6k I took my first rest (photo).
I really missed my deceased friend today. It's nearly a year now that he is gone. But I guess I will never not miss him. And that's a good thing. But I truely miss him and I cried for him today, like many other days in the past (and in the future).
After a few hours on the road I met a German henro and we walked together for a while. It was nice having some chat while walking. During the whole day we parted and rejoined a few times without planning it.
Today I made a really long break around lunchtime (about one hour). I was quite fast today and I didn't want to be at the temple too early. It took me some effort to stay there longer than usual but it worked out.
T28 was a peaceful and relaxing temple. The calm atmosphere stopped my ever thinking mind for a moment.
Later, arriving at the accommodation nobody was home yet, but the door was unlocked. Inside was a plan what to do and where to go. That was really sweet. The host came home shortly after I arrived and she treated me so well and kind, it was absolutely confusing. She brought me tea and a snack (the accommodation is without any meals), she asked me if she should do my laundry, she brought me pyjamas, brought me flowers (!!!), brought me another snack (the accommodation is without any meals!!), she put a hot-water bottle in my bed… help me… I will call her お母さん from now on. This place is so super cozy and I just feel like being in Persona4. Can I stay forever, pretty please??
Tomorrow will be a short day, so enough time to get a lot of rest. 
Have a great day everyone. I am thinking of you!
P. S.: I stopped counting the osettai I get over the day. It's just way too much to keep track of…
Mar 25, 2020 12:55:26pm
~~~~~
Day 13 – Tosa-Kokubun-ji (T29), Zenraku-ji (T30)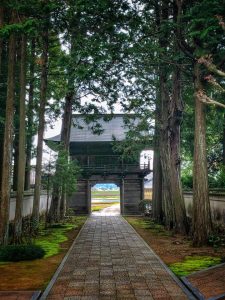 I just didn't want to get up today. I wasn't especially tired but I was lazy. Well, I had to get up nevertheless and お母さん served a – of course – way too big breakfast (why do I even get food here??). I cleaned up my room, left my usual presents and left the house around 7:30 am.
On my way to the first temple I witnessed a pretty bizarre thing. There was a man with a big sign near a huge car crossing and he was bowing to every driver and shouting good morning. It was weird but it made me smile.
The walk to T29 went by pretty fast. I got lost in thoughts. About my lack of emotions, my bravery which is just the pure lack of fear and recklessness. About the times I cheated death.
At T29 (photo) the sakura started to blossom and I thought about how beautiful it must be when they are in full bloom. I talked to a lady pretty long. She is a photographer and enjoyed taking pictures of me. I gave her one of my pictures as a present and she was really happy. I am so glad that I at least try to learn Japanese. I would miss out on so much if I didn't understand anything or anyone. And I am really not a big fan of using the Google translator. It's kinda meh.
I made a long break at the temple before continuing to T30. I am getting used to the roads between the temples by now. There is just everything you can think of. Busy roads, mountain trails, small roads through villages and some little trails through – seemingly – the backyards of people's properties. It's really weird to walk there at the beginning because it feels wrong but you get used to it. The へんろ道 is pretty well signposted so you rarely get lost on your way if you can read the signs, that is. At the start if my journey I used mainly my watch, but by now I just walk by the signs and use a little bit of Google Maps to be sure. It feels completely right to rely on the signs.
T30 was very small and unspectacular. I took a little break and headed on to the hotel. The hotel was just next to my route and there was an offer for it, so I booked it. To be honest it's a bit over the top. But it's only for one night.
Tomorrow will be a long and hard day and it seems it will be my first day of rain as well. So it's bedtime soon. 
Take care, everyone!
Mar 26, 2020 12:21:33pm
~~~~~
Day 14 – Chikurin-ji (T31), Zenjibu-ji (T32), Sekkei-ji (T33), Tanema-ji (T34)
First day of rain. And not only rain… it was downpour.
I got up early today. I knew this day would be long, hard and wet. I enjoyed a cup of coffee and took my leave shortly after sunrise. There was nearly no rain by then and the rice fields shimmered mystically (photo). I got lost in the botanical garden near T31 and wondered why there were no signs of the temple. I ended up in a dead end (closed gate). As it was so early and nobody around I decided to squeeze through and climb over… I had no idea how else to get to the temple.
T31 was a beautiful forest temple with a 5-storey pagoda. The frogs where quite loud.
I went on to temple number 32. It already rained by then regularly but nothing out of the ordinary. My rain jacket was doing a great job.
T32 was neat and way better to find. After getting my stamp I looked at my watch. Hmmm. 9:40 am. I read that the ferry (yes, the pilgrimage path includes a damn ferry ride) should leave at 11 am. It's about 6k till there… so I continued without a break and tried to walk faster than usual. About halfway the downpour started. I quickly threw on my rain trousers and continued. The time flew by and the heavy rain wouldn't stop.
About 10:45 am I slowed down. I didn't want to hurry anymore. Nevermind the ferry. I will wait for the next. There is no benefit in rushing that much. I arrived at 11:03 am at the small port and guess what… the ferry was just arriving. The schedule changed and so the ferry left at 11:10 am. So I didn't have to wait and could even board immediately. Luckily the ride only took 5mins without any waves. I didn't get seasick. 
As I arrived on the other side I took a rest in a heated hut. I tried to dry up a little bit. The rain was slowly creeping the through every corner.
After a decent break I continued to T33. Temple 33 had a nice place which was great to shelter from the rain. I took another rest there before I got out in the pouring rain heading for T34. I really didn't want to walk in the rain anymore. I didn't feel too bad though. I was still quite warm, but… meh. I just wanted a warm shower if it has to be wet…
It was hard to get some cover from the rain at T34 and the lady at the stamp office gave me a little cake. Another man gave me some osettai. I have to check what this is anyway… I have no idea (it's a heat patch).
After packing my stuff together again I started my last walk to my accommodation. Luckily the rain simmered down a bit by then and I only arrived completely wet and not dripping.
I did some shopping after checking in and later on I was busy drying all my stuff. And not to forget, I had a hot shower!!
I am really, really tired and exhausted now and I think I will sleep a little bit better today. At least I hope so.
Mar 27, 2020 1:08:24pm
~~~~~
Day 15 – Kiyotaki-ji (T35), Shōryū-ji (T36)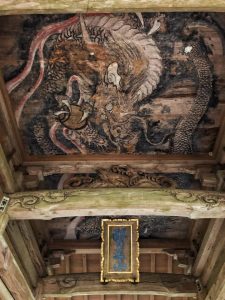 Nothing happened today. Naah just kidding. A lot of stuff happened today. Although every day is like: getting up, get things packed, breakfast, walk, temple, pray, rest, walk, go to accommodation, buy food, wash, take a shower, say hello to friends at home, plan the next day, eat, write blog, sleep… every day is different.
Luckily most of my stuff was dry this morning. Except for my shoes. They were still wet. It's cute that there are hair dryers in every entrance but it really doesn't work to dry your soaked shoes with those…
So I started my day with wet feet but with candy (osettai from the landlady) as well. Yeah. Well, off to T35. It was dry outside at least, although the air was really humid. It took me about 90mins to get to the temple. On my way I met a familiar face. It was Taiwan Stefan. We waved at each other and then head into different directions.
Arriving at temple 35 I immediately knew this was "my" temple. It was a dragon temple and the dragon at the entrance just looks like the tattoo I have (photo). I spent a long time at the temple and it felt just right.
Afterwards I continued my walk. The plan was to buy some food on the way, try to leave my big bag at the accommodation and then head to T26 and back. Shortly before arriving at the shop where I wanted to buy some dinner a car stopped by me. It was Miwa-san, the owner of the guesthouse I would stay tonight. We had a short talk and I asked her if I could leave my bag at the guesthouse before checking in. She said I could put it in the storage room. Perfect!
So I did my groceries, went to the accommodation and left my bag there. Off to temple 26! It was a short way to T26 and the temple had a lot of sakura trees which were in full bloom. It was beautiful. A photographer was there to catch the beauty of the temple. I had the feeling that I was in her way so I hurried on to the main hall to pray. On my way back the photographer asked me where I am from. We had a little small talk and before you know it I had a phone number, an invitation for coffee in Nara and a bundle of fruits as an osettai. Man, and I thought she was mad at me… humans are complicated.
On my way back I shortly stopped by the sea and I watched the waves. The sky got slowly darker and I knew it would rain soon. As I didn't want to get wet again today I hurried back to the guesthouse (and it started pouring when I got into the house).
Miwa-san offered me coffee and cake. I washed my clothes and threw myself under the shower.
I planned my next day and had some sandwiches for dinner. When I went downstairs to the toilet, Miwa-san invited me to a little chat. We talked about 90mins. About my hobbies, about the runs for charity I do and so on. She then told me that 5 years ago she had cancer and how she loved it that most of my charity work is to support the fight against cancer. She was totally impressed that I donated all my hair to this cause and said she was so grateful for her wig during her sickness which made me very happy. She then gave me an amazing present. She told me that she makes purses for people who have cancer as charity and she wants me to have one too to support and thank me for my work. This was incredibly heartwarming.
After this amazing talk and connection I continued my planning. Sadly I got my first denial for accommodation because I am not Japanese and people would feel scared around me but I guess I will find another place to stay. Complicated times.
But first… let's call it a day!
Mar 28, 2020 1:53:02pm
~~~~~
Day 16 – no temple, just walking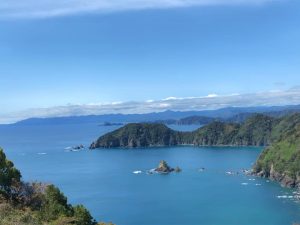 It was a hard day. Not for the body but for the mind.
I woke up around 5 am as usual and got finally up at 6 am. I packed my stuff, said my goodbyes (which were truely hard this time). I chose to walk the route at the coast today. And what can I say… it was beautiful (photo).
The weather was perfect. About 16 degrees Celsius, slight wind, sun. The cherry trees were in their full bloom, the pedals fell down and danced around me in the wind. It smelled awesome as well. Sadly I wasn't really able to enjoy my walk. I was completely consumed by my worries and thoughts. It was a hell of a rollercoaster ride. I was worried about the whole situation of the world right now and asked myself a 1000 times when I would know when it would be time to stop this pilgrimage and to go home… I just didn't come to and conclusion. It really really made my mind spinning.
After lunch I took a long break at a henro hut. It was really nice and would also have been a great place to sleep.
I got a little lost on my way to the accommodation but this way I could have a short look at the local harbor.
Right after arriving at my hostel I went outside again for some shopping. The atmosphere was kinda weird. Nobody was on the streets and I dunno, it felt unpleasant. Weird.
After shopping I took a shower and then sat down for some chat with the owner. We talked, she helped me to book 2 more accommodations, we ate together and we played with the house cat. Finally a cat on my lap again. 
I am super exhausted now. Not only from walking nearly 32k today but also from all this thinking as well. Everything needs some rest!
Mar 29, 2020 2:33:13pm
~~~~~
Day 17 – Iwamoto-ji (T37)
Long sleep. Very long and partly deep sleep. I guess this was needed. Yesterday was truely exhausting and I nearly fell asleep during writing my blog and chatting with home.
So today I decided to turn around in bed once more when my alarm went off.
I finally got up around 7:30 am. I did some planning which is much easier when you are well rested. After a long day your mind often just goes duuuuuuh.
As my way to T37 would have been pretty far today I decided to take the train for about 15k (20mins). This would save me the time I have lost due to sleeping in. So I planned the following days as well and I should be good for at least the next 3 days which is a very relaxing thought.
I left the hostel at 9:30 am and went to Susaki station around the corner. I bought my ticket at the ticket machine and waited for my train to arrive. I was at Kageno station shortly before 12 pm. I put on my rain jacket as it started raining a few minutes ago and went off. It rained the rest of the day but not too heavy which I was very grateful for but it got pretty cold.
My way took me mainly along bigger roads (video) and according to my views I missed a nice mountain trail today. But the most needed sleep was worth it I guess.
I made a stop at a rest area and bought some coffee. I talked to a guy for a short while and moved on quickly. It got cold without walking. After nearly 3 weeks my body seems to adjust to the new stress of walking and carrying all day. Sure the is some pain here and there sometimes and walking up hills can be a drill but running intervals is way more annoying.
I arrived at temple 37 at 2:30 pm. I took my time praying and looking at the pictures in the main hall. Around 3 pm I went shopping and returned to the temple where I would stay for a night in the shukubo.
I was invited to the morning ceremony which I gladly accepted. After getting my room (which had a spectacular view over lots of sakura trees blooming) I went to take a typically HOT bath. Having so much time to plan and for myself is pure luxury. 
Tomorrow will be a long day of walking (supposedly with rain), but I am prepared.
I miss you all!
Mar 30, 2020 12:59:47pm
~~~~~
Day 18 – no temple but long walk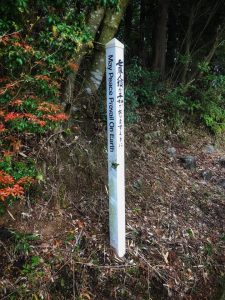 I had a rough night. The futon was way too hard and I couldn't rest well. The funny thing is I remembered that I have a mat with me I could use to improve the situation… 5 mins before I had to get up anyway.
I took part at the morning ceremony at the temple and it was really great. I didn't understand much but it gave me a calm and peaceful feeling.
After packing my stuff, I put my playlist on shuffle play and left the shukubo. As I went out on the street my favorite song played (https://youtu.be/C-o8pTi6vd8) and it put me in a really good mood. As it was pretty cold I put on my gloves I got as an osettai and just realized how the colors perfectly matched my current outfit. Funny. 
It rained all day. Sometimes less, sometimes very steady. But it was ok. It wasn't too cold and during my breaks I dried up as good as I could. The way was nice (photo), even with a small mountain trail. The trail was slippery and steep but Kongi-kun (my kongozue, we are friends by now ;)) saved me very often from falling. Around lunch time I made a longer break in a pretty new and neat bus stop. It had a roof and a bench, so nothing more needed.
After I continued for some kilometers I stopped at Lawson and bought my stuff for dinner as there were no shops near my accommodation.
The last few kilometers were quite hard. It was stormy, the sea was troubled. I only met a few people today. Really no weather to be outside. Meh.
I arrived at the accommodation around 3:30 pm. Sadly it had no heating but at least a hot shower. After the shower I curled myself into 3 blankets and immediately fell asleep. Seems I was tired from the day.
Hope my tonight's sleep will be better and we have a little less rain tomorrow. And I hope my feet will heal up fast. They really hurt today.
Mar 31, 2020 1:35:56pm
~~~~~
Day 19 – still no temple but crazy weather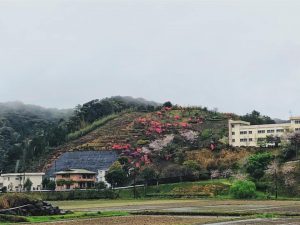 I had an okay sleep. I was awake often because it stormed outside and there was some street sign shining directly into my room which hadn't any window covers. But I felt cozy and warm. I got up around 7 am. I checked the timetable for the train again and finally packed my stuff. Because there was no heating everything was kinda moist. Not exactly wet but it wasn't dry either. My shoes were still wet as well. Meh. When I left the house it was still pouring. Man. I hurried to the train station which was only 10mins away but when I got there I was already pretty wet. I waited for the train (luckily in a hut) and took the train from Ariigawa to Kotsuka. The ride was 20mins long and about 13k on the map. When I got off it still rained but it was at least just normal rain.
So I started my tour and headed off southwards (photo). Around 10 am it stopped raining and I was pretty happy. After an hour or so it got very dark all of a sudden and guess what… it started raining cats and dogs again. And it just would stop. It went on and on and on. I was soon soaked. I needed some rest but couldn't find any place to sit down. So I occupied a little, shabby hut and just sat on the floor. Bah. It was really unpleasant.
After a short break I went on, directly into a tunnel. It took me about 20mins to get through and when I reached the other end… the sun was shining. It was bright and warm and humid. What the hell. I took off all of my raining clothes (which luckily dried a little bit in the very windy, cold, dark tunnel). It was suddenly so hot…
I reached a Lawson Store where I bought my dinner. Outside I talked with a Japanese Henro. He was actually really handsome. He was the kind of badass guy with long hair, beard, smoking. Right out of a video game. Pretty funny. He was tortured by the weather the few last days as well and we wished each other a safe journey till the end. Before continuing on to my accommodation I put on my raining gear again because it was suddenly cold and stormy… yeah whatever.
At the guesthouse I took a long shower and threw all of my clothes into the washing machine. As I would stay 2 nights it wouldn't matter if it would dry up completely till tomorrow.
I arranged some things and went on to bed. Tomorrow will be a long day. A very long day. It will be literally a marathon. So time to get some rest.
Apr 01, 2020 1:30:35pm
~~~~~
Day 20 – Kongōfuku-ji (T38)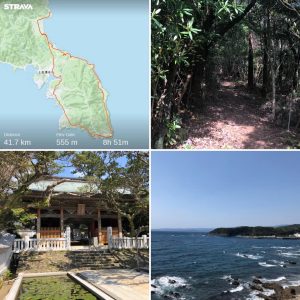 What a loooong day. My feet are throbbing like crazy. No surprise after this little marathon I did.
I got up around 5 am. It was still dark outside. I forced myself to a little breakfast, took my small bag and headed off. Leaving the guesthouse I witnessed an amazing sunrise. The sun, like a ball of flames, shimmered on the sea. It was chilly and I hurried a little bit to get warm. My way took me along the beach and it would have been so great if the beach hadn't been full of garbage. Japan has a serious problem with waste. It's just everywhere. There was an old refrigerator on the beach, tires, clothes… it's a shame.
The way to T38 went by pretty fast. So here I was. At the most southern part of Shikoku, at the most southern temple. The cape and the lookout were breathtaking. It was a beautiful, sunny day and you could just stare onto the seemingly endless ocean.
Temple 38 was amazing as well. It was huge, many well placed buildings, statues and a huge pond at the center. Until now the most impressive temple for sure.
After the temple visit I made a little break before I returned to the guesthouse. As T38 lies far away from everything else there was no reason to stay in this area.
I took another route back. This time I chose some of the old henro trails instead of the street. On one of the trails, deep inside the woods I thought I heard a boar. I stopped, looked around and continued on quickly. I didn't want any encounters so I tried to make some extra noise with my bell.
On my way I met some other pilgrims and a lot of motorcyclists. Most of them waved at me.
Time went by and the sun slowly began to set. The last few kilometers were hard for my feet. Exhausted I reached the guesthouse again after 10 hours of walking. The host recognized my exhaustion and put some hot water for me in the tube. 
The evening was the same as always. Depending on how my body recovers over night I will walk or take the bus tomorrow. Inns are starting to close all over the island by now. Let's see if I will be able to finish this journey… but what's for sure, tomorrow is a new day.
Apr 02, 2020 2:28:30pm
~~~~~
Day 21 – Enkō-ji (T39)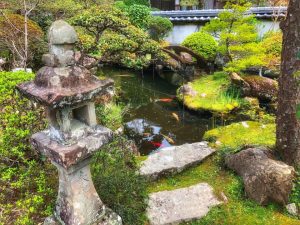 Very uneasy night. Meh. It was a very, very hard day. But also a very heartwarming one.
As already mentioned I just couldn't sleep well tonight. It's always hard for me to rest properly when I exceed a certain level of fatigue and I guess I had an exhausting day yesterday. So, I got up at 5:30 am and packed my stuff. I made myself a hot chocolate but somehow nothing would give me energy. Anyways. I went to check-out and the host gave me some fruits as osettai on the way. 
After maybe 20 minutes I met Simon on my way. I first met him in a henro house where I stayed. We had a pretty long chat and I gave him my candy I just bought yesterday as an osettai. We parted ways and I moved on. Just a few minutes later I met another familiar face. It was a Japanese henro whom I met very often during my first days on the road. We were both pretty happy to meet again. It was truly amazing meeting all these guys another time. It's kinda like family. If I would have stayed in bed I would have missed them.
I already felt that I was very very tired. Nothing hurt in particular but I yawned all the time and I was on the brink of falling asleep as walking. That's a severe sign of exhaustion. So when the road made a turn I decided to head to the bus station instead of continuing walking. At the bus station I talked to an old lady for about 30 mins. She was cute. People don't mind that my Japanese is so bad and I understand so little. The bus ride lasted about 20mins. I enjoy taking the bus in Japan. It's cozy and fun. During the ride I nearly fell asleep. Man, I must have been really tired.
I got off the bus near Nakamura. I started walking again… nope, no chance today. So I went to the train station. I took a break there and continued by train towards T39. I nearly fell asleep on the train again…
From the train station it was 2km to the temple which took me a pretty long time. Arriving at the temple (photo) I saw another familiar face! It was Shinji whom I met about one week ago. We both prayed at the temple (there was a really nice lady at the stamp office too) and sat down for a long chat afterwards. He gave me a little Japanese bag as an osettai. 
I just love this journey! It gives me such a cozy feeling. I always try to avoid people much as possible because I don't like people and they mostly don't like me but it's so different here. Everyone is a friend and you have to prove that you are NOT worthy being someone's friend and not the other way round. I feel great here.
From the temple it was still 7k to the hotel I booked for tonight. 7k isn't a big deal normally, especially after so many breaks but it was so, so hard. I was lightheaded and stumbled more than anything. I was very relieved when I finally reached the hotel. I was hungry, thirsty, dead-tired and my legs were shaky.
Here I am now, trying to eat much as possible, having a super hot bath and getting as much rest as possible. But I can sleep in tomorrow and that's a very big help.  And I am looking forward to it. A lot.
Happy weekend, everyone!
Apr 03, 2020 12:42:40pm
~~~~~
Day 22 – no temple, rest day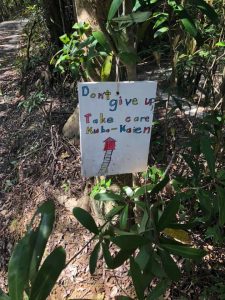 Hey, it's half time. That went by kinda fast, don't you think?? 
I am already more than 3.5 weeks in Japan and in the same amount of time I will be (maybe) leaving. I still have more than 44 temples to go (48 to be precise) but I have also already covered more than 50% of the distance. Yeah, I didn't walk it all but according to change of plans, the current situation around the world and my old grumpy body I think I did well until now.
I slept in today. It was amazing. Being able to turn around in bed again at 5 am is the best. I got up finally at 7 am. I did some planning, prepared some presents, drank coffee and just chilled. Like a sweet Saturday morning. Wait! I think it IS Saturday. 
It would be a nice, short day as I would only move to the next hotel which is just 12k away and I had all the time in the world.
It was a quite hot day, 22 degrees C is quite warm for early April. As I had so much time I decided to take the trail through the mountains. Finally mountains again! The ocean is nice and all but mountains just feel like home.
I think this was one of the trails I enjoyed most until now. It was quite steep uphills over 2k (okay, this was exhausting and I was so drenched after it) but the downhill part was way more flat. Just perfect. On my way up there were a lot of signs drawn by kids to cheer on the pilgrims (photo). I met a henro who gave me an orange as an osettai. At the mountain top a took a long rest, I ate and enjoyed the view.
The guy I overtook a little earlier arrived at the top a little bit after myself as well and started to unpack his camping gear. He made some coffee and invited me to join. A hot coffee at the top of a beautiful mountain… I had worse Saturdays. The way down was very nice and I kinda felt like Mr. Burns who took too much of his daily medication (I bring you love). During my walk I crossed another border today. After Tokushima and Kochi I am now in the third of four prefectures on Shikoku, Ehime.
Before making it to the hotel, I bought some stuff at a shop.
So another day ends early and I enjoy the rest. The next two days will be extraordinary as well, after that I should be right on schedule again.
Happy weekend everyone and…
I bring you peace, I bring you love!
Apr 04, 2020 12:44:19pm
~~~~~
Day 23 – Kanjizai-ji (T40)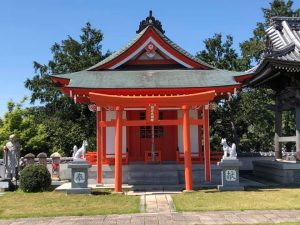 Another day, another temple. 
I had the joy of sleeping in today (again). I had some weird dreams about work (why??) and was kinda fuzzy when I woke up. I checked my route for today before leaving and started my day slowly.
It was about 10k to temple 40. I took my time, had a nice rest in a henro hut which was pretty neat and was at T40 around 11:30 pm. The temple was nice and clean. There were quite a lot of pilgrims there, I think there are more people in temples on Sundays.
After praying I made my way to the bus station. As I am still one day behind my schedule I had to cover some distance. So I took the bus from T40 to Uwajima. The way seemed nice, even along the road and I was a little sad I couldn't go on foot. But my time here is limited, so I have to make some compromises.
After arriving in Uwajima (did I mention that I love taking the bus in Japan?) I had enough time for some sightseeing. So I decided to visit temple B6 (there are 20 additional temples – bekkaku- along the pilgrim route) which was really beautiful (photo). After that I decided to spend some time in the park next to my hotel. It was hard to get there because 4 people asked me on the way (it was maybe 500m to the park) where I am going and that I am on the wrong way to T41. One lady gave me one of her seemingly pretty expensive sweets as an osettai (sweet bean paste, of course), one shared her chocolate with me. An older lady thanked me for doing the pilgrimage. It was all a bit overwhelming but still nice.
After some time in the park I went to the hotel and did my usual evening routine. I prepared everything for tomorrow which will be a long and a bit complicated day but I think I have everything figured out pretty well. And after tomorrow I should be finally back on schedule again.
Apr 05, 2020 2:11:30pm
~~~~~
Day 24 – Ryūkō-ji (T41), Butsumoku-ji (T42), Meiseki-ji (T43)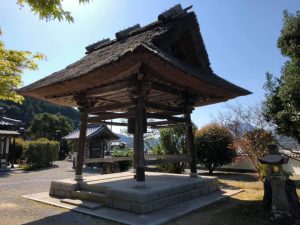 A long day and no sleeping in today. I got up at 5 am and had to really kick myself out of bed. After some coffee I left the hotel and made my way to T41. I met a runner (who else would be outside on the streets so early) and we talked a little bit. Running, especially trail running, is very popular in Japan. After 2.5 hours including a little break I arrived at temple 41. Directly behind the temple was an Inari shrine which I visited as well.
As it is my beloved big brother's birthday today, I lit an additional candle in every temple for him and placed it next to mine. He is and always will be my light and savior. I know I wouldn't have made it without him. 
The way to T42 was rather short. It was a beautiful arranged temple (photo) and I took my time there. After a little break at the temple it was time to take off to T43. Including crossing a mountain. It wouldn't be so much fun without it, right? Right at the beginning of the mountain trail I saw a sign which said that the henro road had collapsed and is not safe to be used. I decided to have a look at the problem as it was just ahead and if I could get through nevertheless or if I would have to search for another way. I could soon see what the problem was. A landslide let the way kinda disappear. But someone already built a new one (with steps and a rope), so I decided to continue on. I did nothing dangerous, I had already walked worse paths.
The mountain was truly a challenge. It was very steep and not only the sight from the mountain top took my breath away.
After conquering the mountain I made a rest in a little hut. I saw a street worker nearby whose only job was to inform people that the road ahead was closed but during the 20mins of my time being there there were only 2 cars… man, that must be awfully boring. I wanted to cheer him up and gave him some of my candy. He was super happy and I was glad that I could do something nice for him.
I had another break shortly before reaching T43. Suddenly a car pulled over and a man approached me. He gave me 1kg of oranges (why though?? I have to carry this!!) and explained to me where I could possibly stay on my further way. That was super helpful.
After this nice encounter I carried my stuff AND all the oranges to T43. The temple was a little bit under construction. I still had a lot of time on me, so I ate… oranges. Trying to reduce the weight at least a little bit. After being fed up with oranges I went to the train station. As the accommodation I wanted to use is closed and I didn't find another one close by I had to take the train for a few minutes to reach my place to stay (I was done with walking after 32k). But after today I should be good again and I can walk all the way (till something else happens ;)).
After arriving at my destination it was shopping time. I was at my guesthouse at 5:30 pm, so pretty late. I tried not to do too much and to relax.
That's what I am here for, no?
Apr 06, 2020 1:02:47pm
~~~~~
Day 25 – no temple, re-planning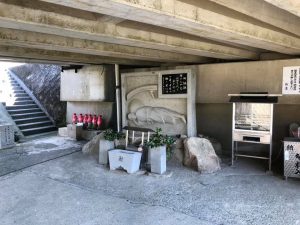 A short day of walking, which gave me time to think and renew my plan for the upcoming days and weeks.
I left my accommodation at 8 am without proper breakfast (donuts and orange juice is no breakfast… meh!) and slowly continued my journey. I slept quite well last night although it got very cold in my room. Most of the houses don't have any thermal insulation and have walls thin as paper (sometimes literally paper) and without air conditioning the temperature drops very quickly.
It was pretty cold this morning and I was a little bit freezing at the beginning of my walk. I came past the bridge where Kukai is supposed to have been sleeping under (photo). After this short visit I went to 7eleven and bought some coffee. Seriously… I can't function without coffee… as I continued walking I experienced something crazy (especially for someone who goes a lot by car in Hamburg). I wanted to cross a rather big road as there was a rest hut on the other side. There were no crosswalks or anything in sight, so I stood there trying to spot a chance to cross. As there was quite heavy traffic I expected to wait quite a while. But… I was watching the traffic maybe 30 seconds, suddenly all cars stopped so I could cross. I mean ALL cars. Just line that. Absolutely crazy.
I took a long break in the hut and did some planning. Initially I wanted to spend some days in Osaka after my pilgrimage. I really don't think that's a great idea anymore. It's very likely that a state of emergency will be announced today for several Japanese prefectures (including Osaka) and even without this I am not fond of being in a very large crowd and using public transportation like subways. So I will spend more time on Shikoku and will take out some miles on certain days.
Around lunchtime I started walking again. The sun got pretty strong… man, my hands are already ridiculously tanned by now…
I arrived in Uchiko and you know what, same procedure as every day. Shopping, checking in to the hotel. Unpack, shower, more planning, resting.
Tomorrow a real challenge awaits me. 36k, mountain over mountain and a lot of trail. So I have to get up super early and trust my still very fresh walking skills.
Cheer on me, I will need it!
Apr 07, 2020 11:23:45am
~~~~~
Day 26 – no temple, walk walk walk and a place like home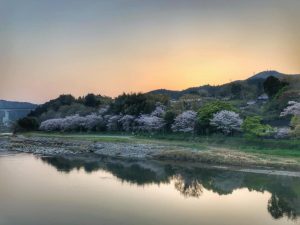 Well, this was a really long walk. 37k to be precise. But I made it and in time.
I got up shortly before 5 am and was in a bad mood. It was too early. Meh. Well, to be honest I think I am pretty home sick. But it's a good thing to miss something. To miss home.
I left the hotel with the sunrise (photo) and watched my breath floating in the morning sun.
I had a lot of time to think and my heart still felt heavy and sad. I watched the Sakura leaves falling, the water flowing, the wind carrying the leaves. It was peaceful.
After some time of walking, I didn't notice at first, someone came up to me. He was holding an orange and… no way!! It was the guy who gave me the bag of oranges. Oh my god… luckily he only gave me one orange this time (what's with all the oranges anyway?) and chocolate. He told me he saw me walking, so he turned around to meet me again. Cute and a bit creepy. 
I got very, very tired around lunchtime. I didn't sleep well and my body really got exhausted. My legs shook a little bit and I noticed that I got lightheaded again. I slowly made my way to a henro hut and decided to take a long break. I was out of water but at least I had a place to rest. After some minutes a biker joined me in the hut. We talked a little bit and he shared his food with me and gave me a full bottle of juice! That was life. I was so super happy and grateful. How amazing these people are around here.
After the break it took me a little while to get into the groove again. I had to pass a tunnel which was rather creepy. In the middle of it it got completely dark. I could see the lights ahead bit right in front of me it was pitch black. I hurried a little to get back into the sun again. It was a weird feeling.
The last few kilometers were long but I made 2 short breaks so it was bearable. On my way to the accommodation the owner spotted me and gave me a ride for the last 300m.
My place to stay is simply amazing. It's a wooden house in the woods, nothing but nature around us. Another henro, a French guy, made dinner for us all and it was super delicious. I am totally stuffed now. We had an amazing evening together. I always enjoy such nights that feel like family. I wish I had this when I was younger.
Sadly it's time for bed now. I am feeling truly sad that I have to leave this behind tomorrow.
Apr 08, 2020 2:33:32pm
~~~~~
Day 27 – Daihou-ji (T44), Iwaya-ji (T45)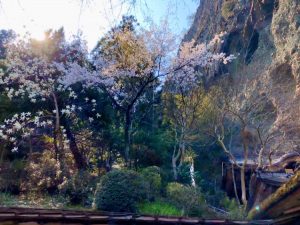 After a pretty good sleep (although it was seriously cold without any heating in the building) I had an amazing breakfast with Francois. I packed my stuff afterwards, with a heavy heart and left the place for good.
The mountain trail continued directly after leaving the house and it was the first day that my legs felt fatigued in the morning. So I hurled myself up the mountain and walked towards the next Lawson. I bought food for the day and continued to T44. It was very relaxed there and I took my time to drink a coke. Then I proceeded to the accommodation. The way was still uphill and it was really exhausting. I arrived at the Nature Resort around lunchtime. I wanted to leave my bag there (which was the best idea ever). I was a bit confused and strolled around the area. I met some foreign students who seemed to be working there. I asked them for help and they guided me to the office. They took my bag and I headed off to T45. I thought it would be a nice short walk. Well, it wasn't. I totally underestimated the track and instead of an hour it took me 1h 40mins. I nearly got lost in the woods as well which was scary. It was impossible to spot the temple, neither from the mountain, nor from the street. I found the way somehow anyway, it was kind of luck I guess. I couldn't enjoy the temple (photo) really, because I was so exhausted and wanted a break but it was already late and I had to go back.
So after a short break I headed back again, taking a different path. There was NO way I would walk that s*** back again. Shortly after starting to go back I met another pilgrim. Raymond from Australia. We talked a little bit and as we had the same way we walked together. He showed me an even easier route and I was super happy to being able to take the road. Trail isn't always the best solution.
We parted after about an hour at my accommodation. I went to the check in and guess what. I got a whole cottage for myself for a ridiculously small price!! Kitchen, bath, living room, everything. Great. I enjoyed the evening much as possible but I am already in bed now and cuddling my cushion. Tired me. Phew. What a day… I really need some rest.
Apr 09, 2020 1:48:59pm
~~~~~
Day 28 – Jōruri-ji (T46), Yasaka-ji (T47), Sairin-ji (T48)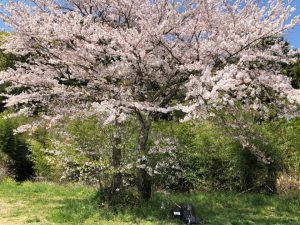 Tired, a snake and a not so much surprise.
I had a light but good sleep. I could hear the birds singing at dawn and I enjoyed being buried under all the blankets in the very cold hut (you know, no insulation). I drank my coffee looking out the window and slowly prepared my start into the new day.
My body was/is still tired. I seriously need some time off, I guess. I knew it would be a long day again but what can you do.
It was pretty cold. The wind was blowing quite strong and the sun was hidden behind some clouds. It took past noon until it got warmer.
So it was time to descent the mountain I climbed a few days before. The trail downhill was kinda nice, it was just pretty exhausting to get down. Tired body, weak knees. Meh. I was walking, not really paying attention as I abruptly stopped. There was a snake in front of me. A real snake, maybe 70cm long. I was pretty sure it was one of the non-poisonous… I hoped so. It saw me and slowly made its way from the walkway into the bushes. Well, that's nice. 
After 4 hours of walking I took a longer break under a Sakura tree (photo). I ate some lunch and continued to T46. Temple 46 was a nice tropical temple. Pretty pretty. 
T47 was just next door. I met Raymond there again and the temple had 2 cats which had my fullest attention at once. At the temple a bunch of ladies gave me a reflection stripe, so I would be better seen in the dark (e.g. in tunnels). That was sweet, they were super excited.
Temple 48 was a few kilometers away. After praying there I sat down on a bench and was soo done. I didn't want to go to the hotel anymore. I was so tired. After 30k the last 3k seem to last forever. But I was hungry and I wanted a shower. So I continued on anyway. I was super happy when I reached the hotel. After shopping and a long hot shower I checked my emails. What a surprise. My flight home got cancelled. That really took a long time. I tried to reach someone from the travel agency for 3 hours but it wasn't really successful. I don't think that rebooking the flight now makes any sense anyway… I mean 3 weeks are currently a long time. Nobody knows what happens until then. So I stopped trying to organize things now (yes, that's hard for me) and just did the usual stuff.
Tomorrow I will allow myself to sleep in. I am looking forward to it!!! Yeah!
Apr 10, 2020 2:53:37pm
~~~~~
Day 29 – Jōdo-ji (T49), Hanta-ji (T50), Ishite-ji (T51), Taisan-ji (T52), Enmyō-ji (T53)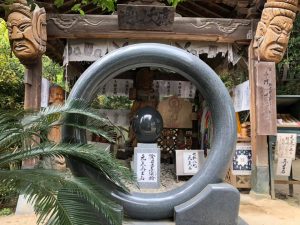 This was really a special day. I have never ever received so much osettai and so many smiles at any other place so far.
I tried to sleep in today but I couldn't. I was awake at 5:30 am and there was no way I could sleep any longer. So I decided to read a little and think about the following days. Time went by pretty fast and I had to stop doing what I was doing shortly after 9 am. I checked out and went to T49, which was just around the corner. A very plain temple with no special features, so I continued on to temple 50. T50 wasn't far ahead so I arrived there quickly. At the stamp office the lady gave me an origami crane as an osettai (which is much prettier than the ones I always make) and a man gave me 100 yen after a little chat.
Time to get to temple 51. One of the most famous one's of this pilgrimage. On my way a man gave me a mask (which is really generous because they are sold out really everywhere). T51 was really interesting. The temple grounds were really big, a lot of statues and other exceptional things (photo) and way too many cats (maybe 15 or 20). The temple was quite filled with people. I guess this temple must be always packed under normal circumstances.
After praying at the temple another Japanese henro came to me and gave me his golden(!) osamefuda. He told me he had done the pilgrimage 50 times already. He also gave me a map and flower seeds. He was so nice and generous. We made a selfie together and I was happy to meet so many nice people today.
After a longer break I went on to temple 52. It took me about 2.5 hours to get there. I went through Matsuyama which is the biggest city on Shikoku. There were a lot of souvenir shops and I was happy that I would have to carry all the things I buy, so I bought nothing. 
On my way to the temple one man bought me a drink and another one gave me an orange. Sometimes when people wave me over, it seems like they want to sell drugs to you. 
Temple 52 was on a little hill. On my way up I could see a man with oranges in his hand… yes, maybe I ran away from him… a little bit. I… man… to many oranges…
4 temples down, one to go. T53 was near T52, so let's get it on. After praying there (5 temples a day is a bit much…) I went to the nearest train station. The accommodation I wanted to use (and other ones close by) were already closed down, so I had to get back to central Matsuyama to my dorm at the main station. It's not how I wanted to do it but special circumstances require special actions. Doing this pilgrimage at this time is really special. It makes it easier and harder at the same time.
So let's get some rest till tomorrow.
Apr 11, 2020 2:22:12pm
~~~~~
Day 30 – Enmei-ji (T54), Nankō-bō (T55)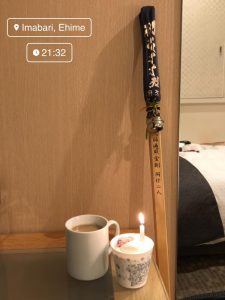 Although it was pretty loud I slept quite ok. I guess I am getting used to sleeping like this. I woke up at 5:30 am as usual and stayed a little bit longer in bed.
After getting up I tried to plan the next few days. Yeah, it's getting complicated but there is nothing I can't organize. I should take money for this… oh, wait…
I was done planning after 1.5 hours, so I decided to check on my flight home again. As the traveling agency seemed to be pretty useless I called the airline directly. And you know what… after 8mins (including waiting in line) I had a new flight. What the hell. It could have been so easy from the start.
Today was another day of rain. I shouldn't complain as it's nearly always sunny, but it was still meh. Anyway I put on my rain gear and went to the train station. I took the train for about an hour and got off near Imbari. Despite the rain I wanted to do some sightseeing today and rest my body, so I didn't continue exactly where I left off yesterday.
It was about 4km to T54 and it would be a long, long walk. It didn't rain, it poured. There where gusts and gale, you could see the rain wavering on the ground. My shoes completely lost the feature of being water resistant by now (which is understandable) and my feet were wet after 5mins. I wore gloves but they got drenched quickly. I always walked against the wind and it was impossible to avoid getting rain directly into my face. It was so cold. Somehow the temperatures dropped to 8 degrees Celsius and the wind made it freezing cold. 
When I arrived at T54 I was just wet. Dripping wet. I did my best to do my prayers and getting my stamp. I stood in a little hut within the temple and the wind howled gruesomely through it. It nearly froze me in place. I quickly left the temple so I could get a bit warmer by moving, but no chance. The rain wouldn't want to stop, the wind did it's best to get stronger. My hands and feet started to get numb.
I arrived at T55 somehow, somewhen. It was nearly impossible to light a candle because I couldn't hold the lighter properly anymore. I quickly did my prayers, got my stamp and hurried to the hotel.
It was way too early. I wanted to do sightseeing. I didn't care anymore. I just wanted to get into a room. I was shaking. It was so hard to keep moving. I arrived at the hotel around 1:30 pm. Check in was – as usual – at 3 pm and it's not common for Japan that you can check in earlier.
I entered the lobby, dripping, trembling and totally exhausted. The lady at the counter got me a towel. I tried to fill in the check in form but I couldn't write. It was impossible to hold a pen and I just couldn't write… the lady was seriously concerned and gave me my room key. I entered my room and stood under the heating air con for about 10mins to dry a little bit and to feel my fingers again. Then I went back out to get some food. It took me maybe half an hour but it were very long 30mins. I was endlessly happy to be back in the hotel again. Finally I could undress all the terrible wet and cold clothes. I made myself some ramen and took a ridiculously hot bath. That was the best feeling ever. I could see that my fingers and toes were actually blue… Afterwards I dried all my stuff (and it is still drying) and washed some clothes.
I had a coffee, a little cake (photo) and some soup for dinner. Although I wanted to do a rest day, didn't walk far either, I am totally exhausted now. The weather is still raging out there.
Tomorrow it's supposed to get even colder… how the hell?? I am still thinking about what to wear. Maybe everything…
I got an email from another henro I got to know some time ago (who is shortly behind me) and he had the same experience. Some henro start to have physical problems because of the permanent load of walking. I am glad that my body is quite well (thanks to my training and taking it easy on some days). Seems this trip is harder than it sounds/looks.
I am a little bit scared of tomorrow but hey… we got this, right?!
Happy Easter, everyone!
Apr 12, 2020 2:42:48pm
~~~~~
Day 31 – Taisan-ji (T56), Eifuku-ji (T57), Sen'yū-ji (T58)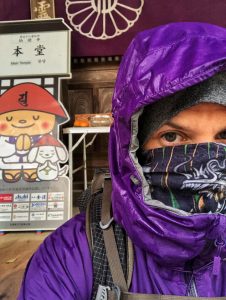 Sometimes it's wiser not to stick to your plans.
I got up at the usual time in the morning. I checked all my stuff and luckily most of the things dried overnight. I prepared a few more things for the upcoming days and checked the weather (forecast) every now and then. Well, I guess we will have to do this… it took me about 20mins to get dressed. I nearly wore all of my clothes, which made my backpack nicely light.
I left the hotel at 9:30 am. It was raining, of course. It was an one hour walk to temple 56 and it went pretty well. My feet were dry, I was warm and I did everything to protect my hands and face against the ice cold rain. T56 was empty and it looked a bit lonely in the rainy scenario. I did my prayers, got my stamp and continued my walk. It took me about another hour to get to the next temple. It was a nice walk through allies and because of the terrible weather it was rather quiet. Temple 57 was a small temple without a special entrance. I could feel that the wet, cold rain started creeping into my clothes. I hurried to get quickly onto the road again. My hands were pretty cold by now but nothing serious. T58 was on a small mountain. The trail upwards was really beautiful. There was a little lake, I walked through a forest and I was even a little protected from the rain and wind within. The temple entrance was really impressive and the statues looked kind of new. Behind the entrance was a small waterfall… no, not a waterfall. These were the stairs to the temple… the rain was so heavy that the water splashed downstairs. So I used all my strength to get up to the main temple. I nearly fell one time but I could balance it out at the last moment.
The temple itself was really beautiful as well. I wish I could have enjoyed it more but the rain got ridiculously strong and the gale was crazy. Doing my prayers was nearly as exhausting as walking itself. I knew that I was very wet by now (photo) and that it would get very cold very soon. Especially with this wind continuing on. I looked at my map and decided to skip temple 59 for today. I would pass it tomorrow anyway and being outside for two additional hours only to get it done z today wouldn't be worth it. Never underestimate the weather and the energy it costs you when you have to endure such things. So I made my way directly to the hotel and it got quickly colder and colder. Nothing compared to yesterday but still really uncomfortable.
The last few meters to the hotel I had to seriously work for every step forward.
I dropped my completely wet backpack at the hotel and got some dinner at the Lawson next door. After carefully arranging my wet stuff around my room, I took a long hot bath. Those are the best!! ☺️
After eating I had to lay down for half an hour because I was so exhausted and I couldn't stay awake anymore.
And now I am sitting here watching my stuff drying (again) and looking forward to tomorrow. For 20 degrees and pure sunshine (no kidding).
Apr 13, 2020 1:12:16pm
~~~~~
Day 32 – Iyo-Kokubun-ji (T59), Kōon-ji (T61) Hōju-ji (T62), Kichijō-ji (T63), Maegami-ji (T64)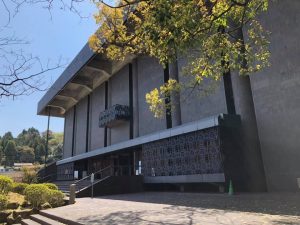 … hey, wait, what about T60?? 
A long day full of surprises. I had to get up early today and you know what? Today I was tired and wanted to sleep more… so my eye bags and me got up and drank some coffee. Some of my stuff was still a little bit wet but the sun was already out and shining brightly, so this problem should solve itself during the day. I went to T59 where I met a cute cat which had to be cuddled a lot. The temple was peaceful. I just can't imagine how it would be with all the other tourists who are usually here. I appreciated it being able to pray properly without freezing to death.
After that I left into the direction of T61. Yeah 61 not 60. Because of accommodation issues I didn't have time for T60 today (which lies on a mountain) and I had to skip it for now.
On my way to T61 I encountered lots of school kids on their way to school on their bikes. They all greeted me with a big smile. 
After 5 hours of walking and a little break I arrived at T61. I luckily knew that this temple would be extraordinary. If I hadn't I would be probably still looking for it. The temple looked more like a church (photo) and had a really weird vibe. I made my lunch break in front of the temple and enjoyed the warm sun. I could see the near mountains and their snow covered tops. T62 and T63 were just next door. T62 was just 2 buildings next to a main road… meh. T63 was way nicer and I enjoyed the dragon statue there.
T64 was 45mins further away and very huge. It had a really impressive main temple with a big yard in front of it. It looked even bigger because of the lack of people.
I made another long break on a bench in front of the side temple, then I walked to the train station. I was done for today (32km) but as mentioned before I didn't get an accommodation nearby so I had to take the train to get there.
The train was seriously crowded with school kids and I enjoyed the ride with them although riding a crowded train maybe isn't the best thing at the moment.
I got off at Niihama, bought my dinner and walked to the motel. And yes, it was a motel. Just like in American movies. Kinda funny. I didn't expect that at all.
I am preparing my things for tomorrow now. It will be a long day and a mountain waits to get climbed. So it will be time to sleep soon as well! I am already really tired…
Good night!
Apr 14, 2020 1:44:10pm
~~~~~
Day 33 – Yokomine-ji (T60)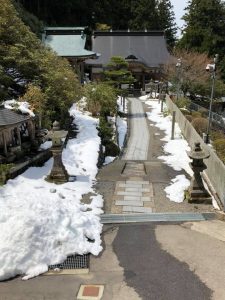 Surprises over surprises. 
I had a really bad night with weird dreams and I was awake way too often. I got up shortly before 6 am. I snatched a croissant from the breakfast buffet and headed to the station again. I had to go way back where I already was before to get to T60. I again rode the train with all students in the surrounding area. That's really funny and entertaining. I really like those kids.
I got off the train next to T62 and I walked back to T61. From there I took the henro path up to T60. I was a seriously hard way up for various reasons. First I was tired and I had no coffee, second I lacked energy and kinda lost my mojo, third I was sad. I don't even know why exactl, but I was sad and had a heavy heart. I didn't want to climb this mountain…
But it was a pretty mountain trail. 2 paths were closed due to the storm two days ago which made the track even longer. Yeah…
During my way up I felt how the air got colder and colder. I appreciated that because the climb really made me sweat. Always when I go up those mountains I think about the amazing butt I must have by now. no really, I have no idea what happened to my clothes but they are ridiculously big by now. And surely I like caps and hats now… 
I met a mountain biker, those guys are crazy. Going down those trails on a bike. WTF.
And you know what? I met a familiar face too. I met the Japanese henro whom I met in Oki beach. We smiled at each other and I continued up while he was already going down. Good times. 
After nearly 4 hours I was up the mountain and there was snow. Lots of snow. I didn't expect that it would still be here. I knew snow was falling 2 days ago but I thought it would have already melted by now. Oh well… now I know my shoes aren't snow resistant either…
Temple 60 was beautiful. Especially with all this snow it looked really cool (photo). There were quite a lot of people here which surprised me. Seems people are still on the road.
After praying I made my way back, just the exact same route again. Down the mountain to T61, to the train station near T62 and going back to the accommodation on a train packed with students. On my way to the station a whole class bowed deeply in front of me. That was a bit embarrassing.
After buying dinner and eating I checked the news. Sadly not only accommodations but also the temples are starting to close now. So it's highly likely that I can't finish my pilgrimage. By now all temples I haven't been to are still open, but during those times things change very quickly.
I planned my stuff until Sunday, so let's see how far I can get. If I can't finish, I assume Kukai has a reason for this. 
My body is amazing nevertheless by the way… just sayin' …
Apr 15, 2020 1:48:24pm
~~~~~
Day 34 – Sankaku-ji (T65)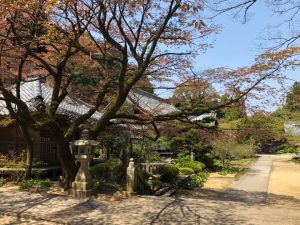 What. A. Night. What. A. Day. I am seriously ready now for some days on which the coffee in the morning is the most exciting thing of the day. Really.
I don't know why, but my nights are getting worse. It wasn't regenerative at all and when my alarm went off my body was stiff as hell. I lay there for a few minutes thinking what to do and then decided I should do some replanning. There was no way that I was walking 28k today as planned. I presume I could but the day after that I would be wrecked.
So I rolled around in bed thinking. The best way to get things done and not walking too far would be to go by train for a few stations, leave the backpack at my hotel and then go for T65 today. Still some distance to walk but manageable, I hoped.
I got a little bit of breakfast from the buffet and checked the train timetable. So I could leave at 9:30 am to catch my train at 10 am. Done.
I went to the station and after a 20min ride I got off at Mishima. I went to my hotel and had maybe the best conversation in Japanese ever. I understood the lady at the front desk and she understood me. Ok, I guess my sentences were still terribly wrong but at least understandable! After this success I went to T65. It was really hot today and I had to take off my jacket. It was one of those days where I was pretty annoyed that I can't wear Tshirts or anything with short sleeves around here. Or a skirt… ah, anyway.
T65 lied on a little mountain in a forest, so business as usual… that's what I thought. Just an easy walk to the temple and back. Yeah. Sure. Because last time I had these thoughts it was going to work out exactly that way… 
Long story short, I got terribly lost in the woods. I have no idea why I took a wrong turn, but that's so typically me. No sense of directions or whatsoever and insisting in continuing until there is no way back or forth. 
I went so deep into the woods, onto a steep, super steep "trail" that I stood there, completely lost and a bit scared. I wasn't sure where I came from, I heard unfamiliar and loud animal noises and everyone who knows me knows that I have HUGE problems going downwards. Yeah, great. Good job, girl… now what?? So, as it is recommended in my pilgrimage guidebook… when you think you are lost, go back, no matter what. Hell, yeah I am f***ing lost!! I want out of here. So I somehow made it back down (no fun at all!) and out of the woods. I immediately saw where I made the wrong turn and hurried into the right direction. Although I knew I was on the henro path again I felt terribly uneasy and just wanted to get to the temple. Where are all the people FFS? 
After maybe 20 mins which felt like an eternity I reached the temple. I never was so happy to see a temple entrance. On my way up to the temple gate I heard a voice: "Man, you are walking fast!" I looked up and I recognized the good looking henro I met about 2 or 3 weeks ago. 
The temple was beautiful, like a large park (photo). I prayed and try to relax a little. I was still pretty worked up. On my way out I bought myself a Coke and sat down next to my friend. We talked a pretty long time (his English is very good) and we hoped that we would stay ok on our further journey. I really hope he does!
On my way back to the hotel I luckily didn't get lost. A little girl in her mother's arms waved at me eagerly and I waved eagerly back.
I took a long bath and had a good cup of noodles. Man, what a day. Japan is declaring now the state of emergency for the whole country as well. Let's see what that means around here. I think I will learn soon enough, right..?
Apr 16, 2020 1:02:29pm
~~~~~
Day 35 – Doryu-Ji (T77), Konzo-Ji (T76), Zentsū-ji (T75), Kōyama-ji (T74), Mandara-ji (T72), Shusshaka-ji (T73), Iyadani-ji (T71)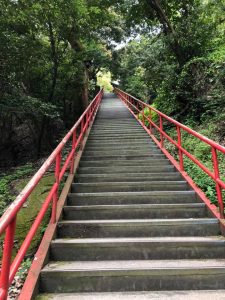 Wow, talking about lack of sleep. I went to bed just before midnight and got up around 5 am again. Why you may ask… well…
After declaring the state of emergency for the whole country yesterday some more temples decided to close their gates. First of all T66, but from May 1st onward, which doesn't matter for me. So all good here. But shortly before I went to bed I got the news that T76 will close after this week and I have planned to be at T76 on Wednesday next week. Darn. So what to do?
It would be a shame to miss a temple only because of a few days, so what are my possibilities… I planned to do only walking today, so there was time to cramp this temple in. As it's too far away to walk, I could catch the train (luckily I was just around a station today) go there and then go back to the place I planned to stay the next 3 nights. That should work out. As it would be a waste of time and money just to go there for one temple only, I decided to do all the temples in the surroundings as well.
I have got some extra time left on top because of the change of my flight, so why not use it now. I am still crossing my fingers that I can visit the rest of the temples just the normal way but we will see what happens. There is so much change around the world right now.
So I took the train and went to Tadotsu. T77 was just around the corner. A nice temple with an Inari shrine. I met a Japanese henro there who was a little creepy. He was a little bit too interested and he insisted that I have to try his onigiri. I took the back entrance to leave the temple so I wouldn't bump into him again.
So I planned T77 to T71 today, a little loop backwards. It's really way harder to walk this way as there are nearly no signs in that direction and you have to check very often if you are still on the right path.
T76 (the temple which closes next week) was really beautiful and very spacious. There were some cute statues and I took some time to enjoy the view while sitting in the sun.
T75 was huge. So many big, impressive buildings. It took me some time to walk around the area. After leaving the temple a man called me over and gave me this local huge grapefruit thingy as an osettai. I like those, just not carrying them. Ah well, the guy was so nice I couldn't say no.
So continuing on to T74. The rabbit temple. There were statues of rabbits everywhere and I even bought a cute, small, pink bunny figure for myself. The stamp lady was super nice as well. Now everybody is not just nice and generous, it seems they are concerned about me and do everything so I am well and all. Those people are just incredible.
After a short break at T74, I went to T72. Yes, temple 72. T73 lies beyond T72, so I went there first. It was one of the smaller temples today and I watched a turtle swimming in a small pond.
T73 had some interesting, unique statues and a pretty view over the nearby city. I went back to T72, made a longer break and then headed off to the last temple for today, T71. There was a short trail leading there (at least one today) and I enjoyed it again today.
Temple 71 was simply amazing. I couldn't stop making pictures. I think it's one of the coolest temples I have been to so far. You can call it the temple of stairs. Oh my god there were stairs. So so many stairs. At least I like stairs. I have no idea how many there were, but it was a hell lot. My calves started to cramp (which nearly never happens) and I still wasn't up there (photo). But it was simply beautiful and the view from the top was simply astonishing. I really liked it there. I exchanged osamefuda with another henro who was fighting those stairs as well, drank a Coke before getting down again and then headed back to the nearest station.
It took me a 10mins train ride to the hotel where I will stay the next 3 nights.
I will try to do a short round tomorrow (at lesst I can try…) and go to T66 on Sunday. My feet really hurt today and I want to be at least a bit rested before going to T66.
What a crazy day… but still a really great one with so many nice encounters and memories I will never forget.
Apr 17, 2020 12:58:17pm
~~~~~
Day 36 – Daikō-ji (T67), Jinne-in (T68), Kan'on-ji (T69), Motoyama-ji (T70)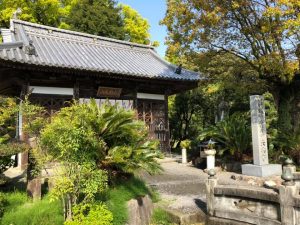 A day full of thoughts. 
I tried to get a good night's sleep as much as possible. My body was pretty exhausted yesterday, my left leg was a bit swollen and really done for that day. Sleeping was hard with the pain here and there, but overall it was quite ok. I planned a short day, so I should be fine.
It was also a very quiet and thoughtful day. I only saw very few people.
First I went to temple 67 (photo). It was really beautiful and I felt very comfortable here. Like a long lost feeling, I couldn't determine it but it was soothing. Afterwards I made my way to T68 and T69. On my way there it got darker and darker (there shouldn't be any rain today!) and I knew this would come down hard on me and that pretty soon. The wind increased quickly and it got colder and I hurried to get to the temple. Just when I arrived there it started to pour. I took shelter in the main temple and waited for the rain to stop while someone was praying and chanting. I tried to meditate a bit but I really couldn't focus today.
It took me about 15 mins to realize that I was at T68 and T69 at the same time. The buildings were directly next to each other. That was a bit confusing at first. The sky brightened fast and soon I was walking in the warm sun again.
I reached T70 during the early afternoon. I always want to call T70 Matoya's cave (it's called Motoyamaji)… it's not even a cave and I didn't see any witch either… I just can't get that out of my head though. I strolled around the temple grounds and found a statue of two horses. 
After this temple I went back to my accommodation, went shopping and tried to figure out what to do. But as everything is uncertain at the moment, there is just no use in trying to plan anything. I guess I have to be way more spontaneous during my last days here. I don't want to, but I guess I will have to be.
On the bright side, since I am here I haven't had any more hearing problems, my heart isn't racing like crazy anymore. I wasn't angry or stressed (yeah, I am kinda stressed now but not like at home) and I didn't feel any despair. I know I can't keep this state completely at home, but I hope I can at least take some of it back with me.
Apr 18, 2020 1:31:48pm
~~~~~
Day 37 – Unpen-ji (T66)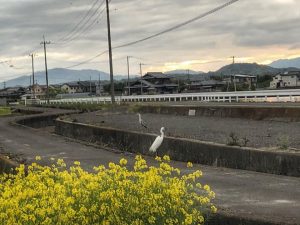 A rollercoaster and a ropeway ride.
I got up early today. Shortly after 5 am I turned on the electric kettle to make some coffee. I wanted to have a relaxed day as much as possible, so an early start was a must.
I left my little apartment around 6 am. It was completely quiet outside and the rain just stopped when I stepped out of the door (I remembered hearing gale and rain during this night clashing against the window). I could watch the sun rising and heard the birds singing cheerfully (photo). My plan for today was to go to Unpenji, temple number 66. It is the highest temple of the pilgrimage. As I was lacking time and strength I decided to take the ropeway up the mountain.
After 2.5 hours through small streets and a little bit of elevation I reached the ropeway station. I was a bit worried, that it would be closed but luckily it was operating just as usual. As I arrived a man from the ropeway station waved at me and told me to hurry because it was 1 min before departure. So I hurried to buy a roundtrip ticket (which is only 50% of the normal price for foreigners) and boarded the gondola with 4 other people. The way up was quick (about 7mins) and the sight was stunning. I love gondolas.
At the top of the mountain (935m) it was pretty cold (7 degrees Celsius) and there was still a little bit of snow here and there. I saw many, many very detailed statues. Surely hundreds of them. Very impressive.
The temple area itself was pretty big and very well maintained. I took my time to look around the place and prayed for my beloved husband. After some time, I sat down on a bench in the sun to get warm again. While sitting there and eating an apple I suddenly saw someone I knew. The henro I met during my first week was here too. What are the odds? We talked a bit and I gave him one of my photos.
After warming up I went back to the ropeway station and went down the mountain again. This time I could ride the gondola all by myself. 
On my way back to the accommodation I had a lot of time to think and it was an emotional rollercoaster ride today, but I think I got some of my mojo back. I will continue my journey tomorrow and I will see how far I will get. Just quitting and giving up is just no option.
After some shopping (man, the stores were packed with people today!), I did the usual stuff and then planned the next 3 days. This took me a lot of time, but it feels good to have a plan again.
Now I am pretty tired and I hope I can sleep soon. It will be a long day tomorrow, 3 long days even. Let's do this!
Apr 19, 2020 1:02:01pm
~~~~~
Day 38 – Gōshō-ji (T78), Tennō-ji (T79), Sanuki Kokubun-ji (T80), Shiromine-ji (T81), Negoro-ji (T82)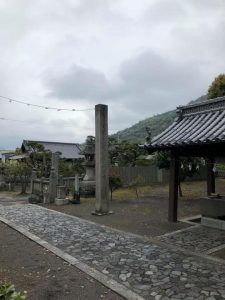 The hardest, eeriest, loneliest, weirdest and most confusing day since I arrived here. I was about to quit this journey for good… but here's the story from the beginning:
My alarm went off at 5:30 am and I rolled slowly out of bed. I made some coffee and got ready for the day. It's gonna be a long one, I knew it. Before I checked out I looked at the closing list of the temples again and… no. One temple I wanted to visit today was closed. Without any warning (yesterday it was still open without any further notice). Nooo. And I thought I could still make it… I was dumbfounded, but it was time to leave. On my way to the train station my thoughts swirled around the closed temple. I was sad.
After a short train ride I went to T78. It was a beautiful temple with a huge, colorful garden. The man at the stamp office was very nice. He gave me a mask as an osettai and prayed for my safety. I had tears in my eyes.
I went back to the train station and went another short section to T79. Temple 79… the one which should be already closed. Well, I checked it out for myself. There was still a little bit of hope that it maybe was still open, but I knew no miracles would happen here. I could still enter the temple, but it was a bit creepy. There was no one there. No pilgrim, no monk, no staff. All the signs that are usually around a temple, all gone. Just some buildings and the howling wind (photo). Nevertheless I did my ritual as good as possible and left with a really weird and uncomfortable feeling.
I went to the station again and went near T80. It was pretty windy and cloudy and I was freezing a little bit. I liked T80, but the atmosphere here was strange too. The temple was still open, but there was just nobody except an old lady doing some cleaning. I walked around the temple grounds and went to the stamp office. It was dark and empty. Spooky… temples are usually places full of life and colors. All this seemed to be missing now. I felt very uncomfortable. I sat down on a rock and didn't know what to do. Should I continue? Does this make any sense anymore? But I can't go home now anyway… so… what shall I do? I was totally lost in thoughts when the lady I saw taking care of the garden came up to me and told me she is doing the stamps and she has time for me now. I apologized to her for being a nuisance and she gave me an origami umbrella as an osettai. That cheered me up a little. Outside again I still didn't know what to do, so I just continued for now.
The way up to T81 was pretty exhausting. The weather was strange as well. Very humid, but kind of chilly. I had a hard time making my way to the temple, I guess mainly because of my uncertainty. Sweaty and breathless I arrived at T81. The temple had statues of all zodiac animals and hundreds of small cat figures everywhere. It had a temple cat as well which was very cuddly. It sat on my lap when I was making a break and I couldn't get up for some time. But I had to continue, even if it's hard to part. I talked to another henro at the temple and he gave me a keychain as an osettai. The stamp lady tried to cheer me up with some candy. I just wanted some break of today, so I made my way to my accommodation. I wanted to stay at a hut next to T82, which is especially provided to walking henros. The way there was again pretty hard, but I managed to arrive at the hut. And you know what… the hut was closed due to Covid-19. So… what to do… there was a hotel near the location as well, which I had as a backup. And… it was closed due to Covid-19. Great. I passed a public toilet some kilometers ago, but I wasn't really fond of the idea of sleeping there. It would be better than outside I guess, but meh. Due to lack of options and ideas I went to T82, a really, really beautiful temple. One of my favorites up till now I must say. I asked the lady at the stamp office if she had any idea where I could spend the night but she just shook her head. She said the mountain had no accommodations available anymore and I should go down to the city.
I sat down in front of the temple and checked my possibilities. I didn't want to sleep in a restroom. It's 10k to Takamatsu. It's 4pm. So I took my stuff and rushed down the hill. During my descent I tried to book a hotel. After 45mins of a very fast walk I looked for a bus stop. I really didn't want to walk anymore… I found a bus stop and jumped onto the first bus I saw. I didn't check the bus number, so I was on the wrong bus… luckily it didn't matter much. The bus driver told me at the final station that I could just wait here for the next bus which will be arriving in 15mins. During my wait for the bus I checked my booking. It didn't work… yeah, of course. So 4mins before my bus arrived I booked (it worked this time!) another hotel and while riding the bus I tried to figure out where I had to get off. There was a bus stop directly in front of the hotel. When I got off the bus, the bus driver made sure I knew where I was going and waited until I entered the hotel. It seemed I booked a pretty fancy hotel. The staff was overly polite (they bowed in a 90 degree angle) and I was a bit embarrassed standing there sweaty and dirty from the mountain trail… but at least I had a place to sleep. Of course I had to do some replanning because I didn't even know where I exactly was right now and how I will get to T83 tomorrow… aw man, what a day.
I should go to bed now… me tired.
Apr 20, 2020 3:50:30pm
~~~~~
Day 39 – Ichinomiya-ji (T83), Yashima-ji (T84), Yakuri-ji (T85)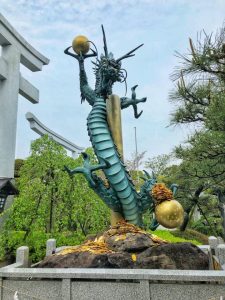 My body was pretty sore this morning. Yesterday didn't go by without any traces, I guess.
It was hard to get out of bed. Body hurting, too little sleep, not knowing what to expect from today. Getting up seems to be the hardest part of the day by now.
I had some coffee, packed my stuff and left my luxurious hotel. I went to the train station to get to T83. I wanted to walk there but now I was just to far away from it. Before arriving at the temple I visited a shrine (Toshitokujin) which was a real fantasy land. So many impressive statues (photo), monks in traditional shinto clothes. It was stunning. I loved it. Afterwards I went to T83. The monk in the stamp office was very nice, gave me an osettai and a very deep bow. I left with a smile on my face. I went back to the train station to get near T84. My body still hurt and I had two mountains to conquer today. And it's getting harder and harder not to lose my pants… wtf is it with my clothes getting ridiculously big?
From the train station it was all walk for the rest of the day. So I went up the mountain to T84. It seemed to be a popular running spot (running up to temples seems to be a thing around here and I can absolutely understand why) and I met a lot of people running or walking up and down.
I made my way up as well and I tell you, I was breathing heavily. It was a good walk, but it was hard. After 30mins of continuously going up and taking stairs I was finally up. I met Shonji at the temple and we talked a little bit. We all try to finish our pilgrimage tomorrow as all temples will be closed Thursday onwards. I gave him one of my photos and we said our goodbyes. There were two temple cats sleeping in the stamp office which was super cute.
The trail to T85 was challenging. First all the way down again on a very, very, very steep and slippery slope and then up a mountain again. I felt very exhausted but looking back I don't think I could have managed those paths 6 weeks ago (not to forget my 10kg or maybe by now 11kg backpack). The view from T85 was as nice as the one from T84. At least hiking up a mountain gives you an instant reward.
I took a longer break at T85 and a monk told me that the temples will be closed soon. Later I made my way to the hotel. It was only about 7k, but my body was still sore and tired and every step now was heavy. I arrived at 3 pm at the hotel. I did some shopping and then I had to wash all my clothes. They were a bit nasty after those two last days.
So, everything is planned for tomorrow and I have a little bit of time to relax today. I really need that. So tomorrow I will visit the last 3 temples. T86, T87 and T88. What a weird feeling somehow…
Apr 21, 2020 12:18:02pm
~~~~~
Day 40 – Shido-ji (T86), Nagao-ji (T87), Ōkubo-ji (T88)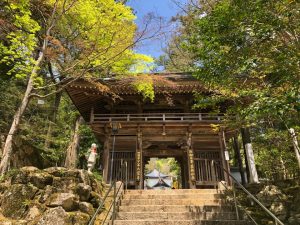 I am so overwhelmed by this day, I don't know where to start. But I best start at the beginning, I guess…
I got up at 6 am. My body was still a bit sore, mainly my foot and calves, but it was not too bad. I had breakfast at the hotel buffet and I was happy that there was at least a bit of bread and coffee available. I can't stand miso soup anymore. Seriously… 
So first stop today was Katamoto train station. I didn't check the weather before leaving and realized outside that it was pretty cold today. It was about 8 degrees Celsius and the wind was strong. I was freezing in my outfit. Well, too late to change that now. So I went to the station and from there to Shido, near T86.
The temple was mainly under construction. I guess now is the best time for some restorations. It was a very angled area around the buildings. The temple gardener came up to me and led me to a Japanese garden, a typical Zen garden. It was relaxing watching it from the door steps of the near building. As the weather was really unfriendly (still chilly and very clouded) I soon made my way to the station again. From there I took a short ride to shorten the way to T87. During the train ride I thought a lot about the last weeks and the amazing experiences I had. With people, alone, in temples, when walking. I got really melancholy.
From the station I walked about an hour to the temple. The sun began to break through the clouds and it was at least a bit warmer now. When I reached T87 the sun was out shining brightly. The temple had a large ground and was very clean. I prayed there and while doing so I felt my legs trembling a bit. Was I nervous? Or happy? Or sad? All of it? I wasn't sure. It was the temple before last. Only one new place to go. A thought that somehow blew my mind.
After getting my stamp, I went to the bus station and checked the schedule. T88 was too far away to get there today by walking (and back!), so the bus was the only option. I solely rode the bus up to T88. It was a 45min ride and while the time flew by I felt I just didn't want to go there. Visiting 88 temples on this island was one of my goals and it was approaching so quickly now. Too quickly.
I got off the bus at the station near the temple and left my big backpack there. Then I slowly approached the temple gate (photo). I think I will never forget this view. The sun shining so brightly upon me, the gate, all surroundings. I slowly walked up the stairs and now my legs were definitely shaking. I reached the main hall and stood there for a while, in awe-stricken silence. The final temple. Ōkubo-ji 大窪寺. I am here. After all this time, after all this crazy days.
It took me a very long time to pray and do the rituals. I couldn't clear my mind and while praying I was smiling, crying and shaking. I went to the stamp office to get my stamp. After leaving, a tv crew came up to me and I gave an interview. That was surely surprising. 
It was awfully hard to leave this temple. It wasn't the end of my pilgrimage though, I still have to get back to T1 and I still have time here in Japan, but it awfully feels like an end. Something I don't want to end.
I went back to the bus station and was very happy to see 3 other familiar pilgrims. So we all made it on the last day. We waited in the sun for the bus and ate some crackers. Like a litte goodbye-party. The ride down the mountain went by way so fast and I was the first one to get off the bus. I waved everyone goodbyes and went to my hotel. I was still full of emotions. I was happy, sad, everything and I still am.
Tomorrow will be my first real day off. I will plan the rest of my remaining days and give my body a little rest. It's weird not to go somewhere tomorrow… but I know my body and my mind need a little bit of rest before I finish my pilgrimage in a few days…
Apr 22, 2020 2:01:37pm
~~~~~
Day 41 – no temple, first real rest day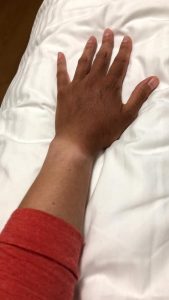 After 40 days of walking, today was my first day without moving (yeah, I was outside to buy food, but that really doesn't count).
I spent the whole morning planning and replanning (it's really getting harder each day to find accommodation), but I really wanted to walk back to T1 and not take the bus or train. I have now settled everything for my (presumably) last week in Japan and my coming up 3 last days as henro. I already know that I will miss being ohenro-san, but every journey has its end and sets a beginning for something else.
Nevertheless I enjoyed just relaxing today, resting my feet and knees and watching some videos on YouTube.
By the way, if you've ever asked yourself how you could identify a walking henro (despite the obvious things like clothes, etc.), just take a look at the person's hands… (photo).
I am really looking forward to the rest of this week and completing the circle I started so many weeks ago.
Apr 23, 2020 12:53:13pm
~~~~~
Day 42 – no temple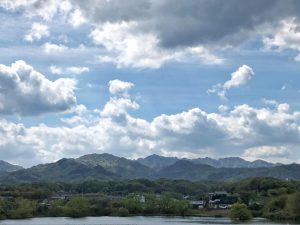 My last Friday here in Japan. One week ahead I will be on a plane to Frankfurt already. That's at least the plan at the moment.
Before I left the hotel today I took some time for breakfast and reading some stuff. I didn't have to leave early anyway. I checked the weather before I went outside (yes, sometimes I am clever enough to do that) and decided wisely on my clothes.
All I did today was follow one big road (Route 11), which led me in the direction of Tokushima. This would also be my last day in Kagawa prefecture, as tomorrow I will cross over to Tokushima prefecture again. I looked at the mountains to my right, where T88 lies (photo) and had a heavy heart. On Sunday it will be over. No more Ohreno-san. Just plain old me. What a weird, unreal thought.
I didn't meet many people on my 5 hour walk. I wasn't on a henro michi and I walked next to a quite busy road… there weren't many people to meet anyway. I met some road construction workers though who were all super friendly and they apologized kindly for blocking my way.
My feet really weren't doing well today, which is strange because I thought the rest day would give me some strength back. I kinda wasn't motivated to walk either, but time went by fast nevertheless. Maybe I don't want to walk because I know it will end so soon. It's all kinda strange right now. Hard to explain or describe.
I am now preparing stuff for tomorrow (it's a quite long way to Naruto) and I am lost in thoughts a lot.
42 absolutely crazy days lie behind me, but what will be waiting for me in the future…?
Apr 24, 2020 1:01:32pm
~~~~~
Day 43 – no temple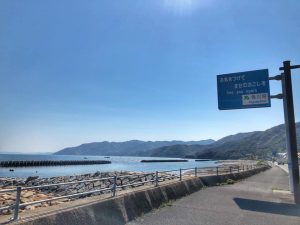 It's incredible how time flies by…
I had a very uneasy night. I had bad dreams and was awake very often. Something seemed to bother me a lot and I woke up pretty unrested. I had some breakfast at the hotel (man, coffee is really bad at hotels here, bah) and left shortly after 7 am. I had a long way to walk today, so better leave early.
The sun was already pretty warm and there were no clouds to be seen. I walked pretty fast, it seemed at least my body was a little bit rested today. I continued to follow Route 11 and for the last time I had the sea protecting me at my left side and the mountains watching my right side. After 2 hours of walking I crossed the border and entered Tokushima prefecture again (photo). I suddenly recognized a sign from the corner of my eye. It was a henro sticker. So without realizing it, I was on the henro michi again (at least for some kilometers). It was a nice feeling, just like being on the right way.
I continued on and somewhen left the henro path again. I wanted to go to Naruto first, before going back to temple 1 and Tokushima City tomorrow. I was walking busy with my thoughts, when I suddenly saw it. It was little but still… it was a mukade!! Fuck. I took a huge step over it and speeded up significantly. I really didn't want to meet those things. It was maybe as big as my hand (they can be much, much bigger), but they are very poisonous and gross.
After this little shock I took a little break at a bench near the sea and smelled the salty air. It was a usual day of walking. It was long, it got harder with every hour… I still can't grasp the thought that it will be over tomorrow. I just cannot compute…
After 31km I reached my hotel. The lady at the check-in was sweet and took good care of me. I immediately took a bath in my room and put myself into bed with chocolate cookies. I was really exhausted and very tired.
I still have to prepare some stuff for tomorrow and I am sure my sleep tonight will be even worse, but things have to be done even if they are scary and weird.
Apr 25, 2020 12:59:55pm
~~~~~
Day 44 – Ryozen-ji (T1)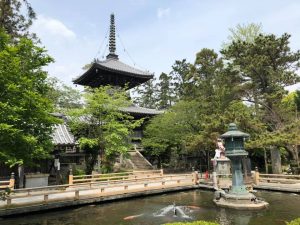 It's over. It's done. Completed. Succeeded…
It's so strange…
After another night without proper sleep I rolled out of bed around 6:30 am. I got some breakfast from the hotel buffet (yeah, the coffee is indeed bad!) and packed my backpack as usual. I looked at my henro gear pretty long. It would be the last day I will wear it. The last day of being ohenro-san.
I left around 8 am. It was already pretty warm, although the sun wouldn't come out. The plan was simple: follow Route 12 till you reach temple 1. As I walked down the road I watched the rice fields, the near temples, the mountains. All so familiar after all those days, nearly like home. My thoughts jumped from one scene to the next, I couldn't focus on anything really. I just walked and walked and although my feet hurt today, it didn't bother me. It was so weird to see street signs telling me I would shortly arrive at Ryozen-ji. The temple where it all began, 44 days ago.
Finally the sun came out and it got really, really warm. I started to recognize the neighborhood and I knew that around the next corner I would be there. My head turned slowly to the right and there it was. The entrance to temple 1. I stood there in silence and just watched the gate. I took a deep breath and made a deep bow before entering (photo). I put my backpack next to a bench and started doing the rituals.
I cleaned myself at the fountain, I made donations to the statues. I lit a candle I bought at temple 87 and burned incense sticks. I left my osamefudas at the temple buildings and I said my last prayers. After all of this I sat down on a bench and just closed my eyes. I held my juzu tight and just listened. As there were not many people at the temple today I had some alone time. When I opened my eyes again I saw a big black butterfly flying through the temple garden and I smiled. Time passed and I knew the time I would stand up it would be time for me to leave. To leave the temple, the henro path and being a henro as a whole. So I slowly stood up, took some last photos and left the temple.
I turned around outside the gate, looked at it one last time, took a deep bow and thanked Kukai again for everything.
I went to the nearest bench and took off all of my henro clothes. I packed them away, as well as all of my henro supplies and strapped my kongozue to my backpack. There I was, the normal me again. I shouldered my stuff and made my way to the hotel. It was a quiet walk. After some time I recognized the streets and I knew I was in Tokushima-Shi again. I already walked this way several weeks ago after buying my henro gear.
I reached the hotel drenched, it got really warm over noon. After the obligatory shopping for dinner, I took a long bath and washed my clothes. I will be staying here for 3 nights. Time to wrap up everything and prepare my trip to Osaka on Wednesday.
I am still not sure if I realize that it's all over now. It's just not real. But this whole journey wasn't real. And I finally understand now… Shikoku hasn't 88 (or 108) holy/sacred places. Shikoku itself is the sacred place. A place so unique and special that it will always be a part of me from now on.
Apr 26, 2020 12:29:41pm
~~~~~
Departure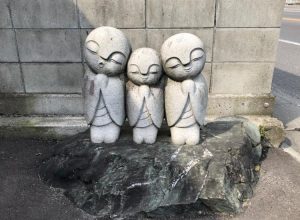 As I am completely free today (except going for a little walk, doing some shopping and drinking coffee), I think this is a good opportunity for some random numbers and facts: Pilgrimage completed in: 44 days Complete distance walked: 1109,58 km Rest days: 1 day (after T88) Shortest distance walked: 1,43 km (rest day) Farthest distance walked: 41,71 km (to T38 and back) Worst weather: 12.04.2020 Favorite temple: Kiyotaki-ji (T35) Best experience: countless
As I am completely free today (except going for a little walk, doing some shopping and drinking coffee), I think this is a good opportunity for some random numbers and facts:
Pilgrimage completed in: 44 days
Complete distance walked: 1109,58 km
Rest days: 1 day (after T88)
Shortest distance walked: 1,43 km (rest day)
Farthest distance walked: 41,71 km (to T38 and back)
Worst weather: 12.04.2020
Favorite temple: Kiyotaki-ji (T35)
Best experience: countless
Apr 27, 2020 11:56:37am
~~~~~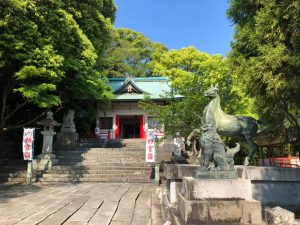 My last day in Tokushima and my last day on Shikoku. I went for a longer walk this morning. I went to 3 shrines and temples near my hotel. It was funny, every time I saw a path up the mountain – small, seemingly ending nowhere – I just had to take it. That's a really weird habit right now. 
I spent the rest of the day taking notes on my gear, my done routes and the accommodations where I spent my nights during the last 7 weeks. Who knows what's it good for…
Tomorrow I will leave for Osaka Airport. As my bus is and stays cancelled at the moment and I really don't want to go to Osaka downtown, I will have to take the ferry from Tokushima to Wakayama. Better getting seasick than catching a deadly virus, I guess. Nevertheless I reaaaaally don't want to do this, but sometimes you have to endure shit. 
It will be weird leaving Shikoku, I know I will miss everything so much…
Apr 28, 2020 9:11:08am
~~~~~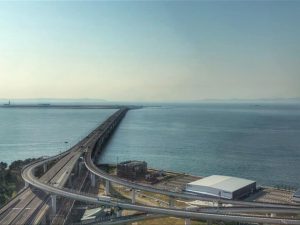 A hard day. Not physically but mentally.
I am now in my sky suite near Osaka airport (I got a free room upgrade) and the day after tomorrow I will (try to) return home. I can't believe it, where did the time go??
After checking out I went to the port on foot. It was a nice short stroll along Yoshino River.
On the ferry I chose a seat far away from the window and just sat there, staring at the wall. I was terribly sad. I didn't want to leave this island. No! I had tears in my eyes. It was hard. I closed my eyes and listened to my music. The 2 hours went by pretty fast and I didn't even get seasick. I was just a little bit dizzy.
The upcoming train ride to the hotel was smooth and easy as well. The city looked weird though. All shops closed, the train nearly empty. Even the Osaka ferris wheel stood still.
Now I am sitting on the hotel bed, looking out of the window of the 24th floor, watching Kansai Airport (photo). No planes arriving or leaving. Just the quiet sea and me watching it.
I will try to relax a bit tomorrow and on Friday I will leave all of this.
But I already had to leave the most important thing behind… Shikoku I miss you.
Apr 29, 2020 9:59:41am
~~~~~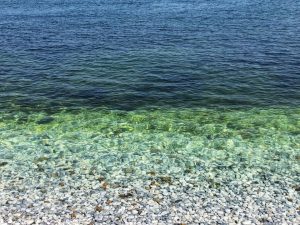 This will be probably the last post on this page. I will spend the next hours with checking on my flights (they get cancelled pretty often) and then I will try to get home tomorrow. Luckily I am used to spend a lot of time at airports… but maybe I am lucky, who knows.
I was at Marble Beach this morning (photo) and I thought as I will have some time while waiting (today and tomorrow) I could answer some questions.
So, if you have any questions (about my journey, Japan, myself, etc. ) just ask!
And thanks to everyone for reading all these posts. See you! 
Apr 30, 2020 4:25:36am